Candidate Experience and Recruiting AI Software
Want to build your perfect team? Create an outstanding candidate experience and boost talent acquisition with Generative AI Talenteria solutions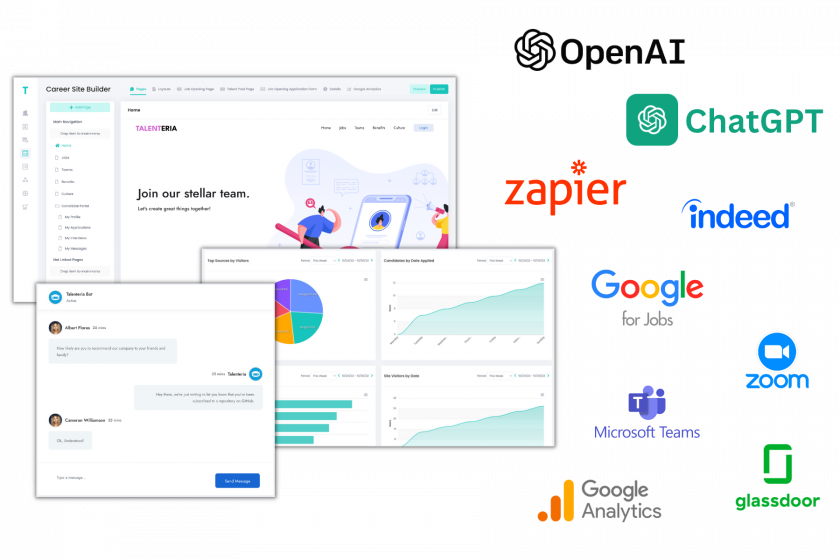 Hire faster with less effort using the candidate-centric Talenteria solutions: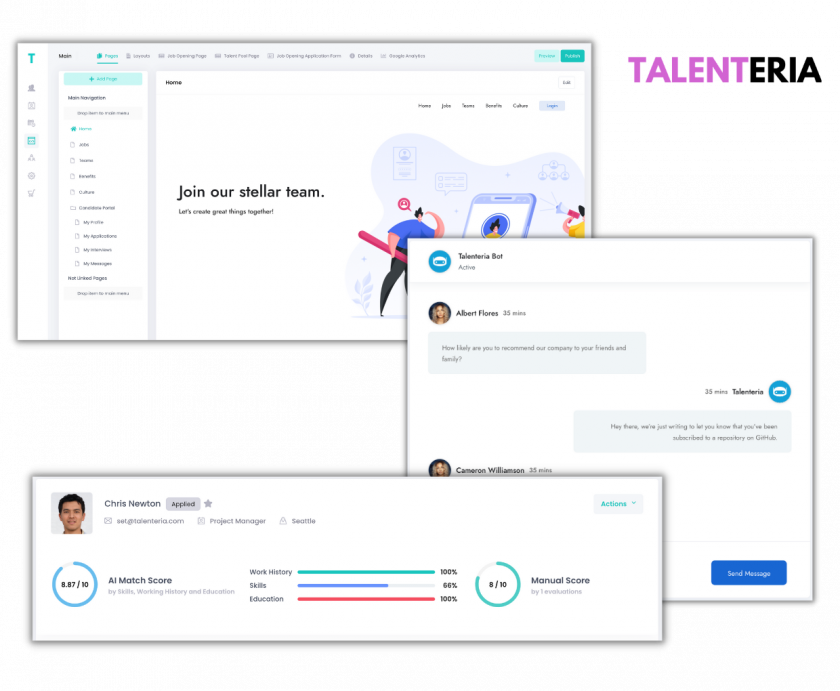 AI-powered recruitment workflows
Empower your talent acquisition with AI-driven candidate engagement, screening, matching and support
Candidate experience and career site
Improve the touchpoints between your company and candidates with the branded career site, candidate self-service, and AI-powered conversational chatbot.
Collaborative recruitment and applicant tracking
Empower your team with an AI-enabled applicant tracking system and streamline your recruiting process.
Why Talenteria?
New generation hiring software focused on candidate experience, recruitment marketing, and employer brand.
Create an outstanding candidate experience
Build a smooth candidate journey and ensure the efficiency of each candidate touchpoint.
Empower your recruitment with AI
Integrated with OpenAI / ChatGPT recruitment chatbot, candidate screening and scoring, generating job descriptions, candidate emails, and career site content
Launch impressive career pages
Create career sites and pages without technical skills using our Site Builder and pre-defined templates.
Promote employer brand
Showcase your employer brand to prove yourself as the right place to work.
Reduce time and cost of hire
Save on talent acquisition costs with automated communication, conversation chatbot, and collaborative hiring tools.
Analyze performance
Analyze real-time data, make better strategic decisions, and improve your hiring process via Talenteria recruiting software.
Here's what our customers say
Talenteria has significantly improved our hiring process, making it faster and more efficient than ever before. The platform is incredibly easy to use and has helped us provide a better candidate experience.
Here's How It Works
Launch a Branded Career Site
Build a stunning site in hours with our easy-to-use career site builder and AI-powered content generation. Promote your employer brand, drive talent acquisition, and deliver an outstanding candidate experience.
Publish Job Openings
Create and manage all the jobs or import them from your HR system. Easily create job ads with AI and broadcast the job openings to your career site with customizable landing pages.
Attract Candidates and Grow Talent Pools
Engage more candidates via powerful and personalized job search. Our Application Form Designer allows you to create customized forms and collect the data that is important for your recruitment process. Get candidate profiles for your immediate hiring needs or include them in the talent pools for your future recruiting campaigns.
Interview and Communicate
Our Candidate Self-Service portal will become the ultimate tool for improving a candidate journey and experience. Self-scheduled interviews, recruiting chatbot, candidate messaging and an application tracker will make the recruiting process effortless for your team and smooth for candidates.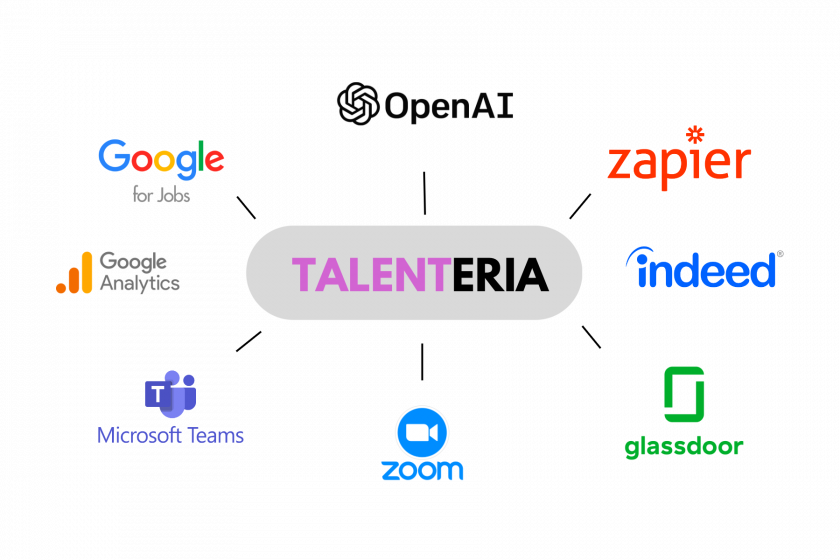 Hire the Best Candidates
Collect the evaluations from your team members and choose the perfect candidates for your organization. You can issue a job offer right in the system, and send it to a candidate who will be able to sign electronically.
Analyze performance
"Do – analyze – improve – repeat" is an eternal circle that guarantees success for any business process, including hiring. With Talenteria hiring software, you can analyze your career site's and job ad performance, visualize data for your team, and make better hiring strategies for your future.
Empower your Recruitment with Generative AI!