AI Recruiting and Candidate Experience Software
Unlock the Power of AI in Recruitment - Hire Faster with Less Effort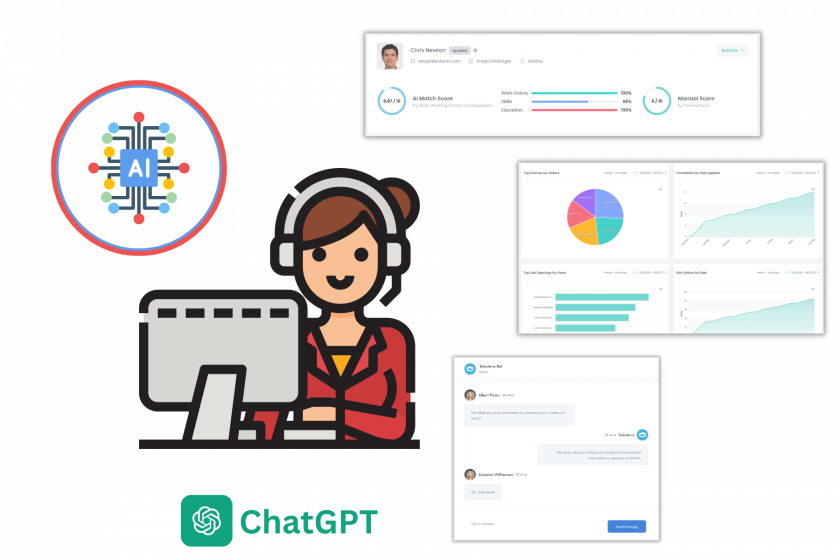 Hi, I am Talenteria, your AI Recruitment Copilot powered by ChatGPT
Let me showcase how I can help you with your talent acquisition.
AI Recruiting Software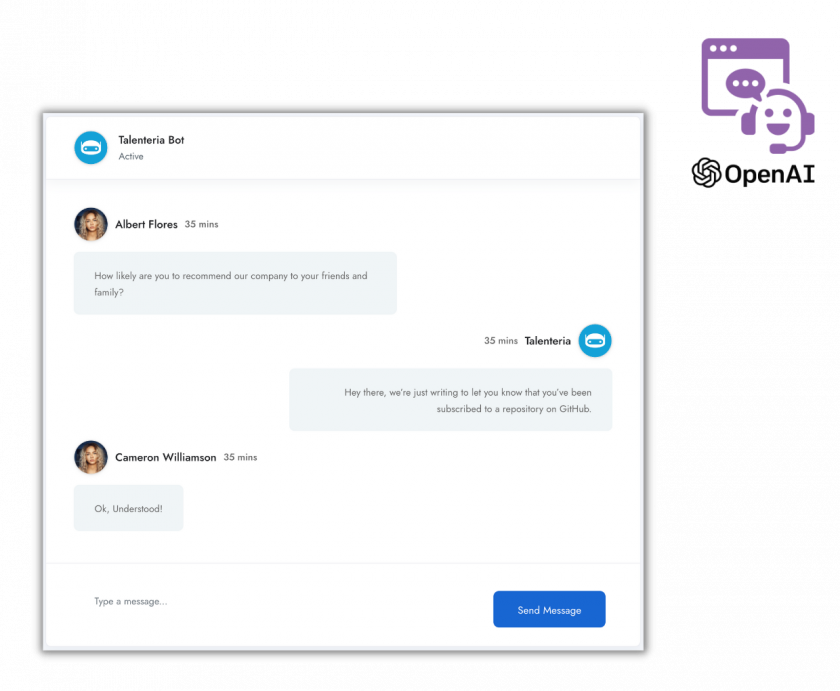 Conversational AI Recruitment Chatbot
Let our AI-powered recruitment chatbot support and engage candidates 24/7 and save your time for important tasks.
Utilize integration with OpenAI / ChatGPT for smooth human-style conversation
Train chatbot with your own data and customize Frequently Asked Questions
Get a multilingual bot speaking 12 languages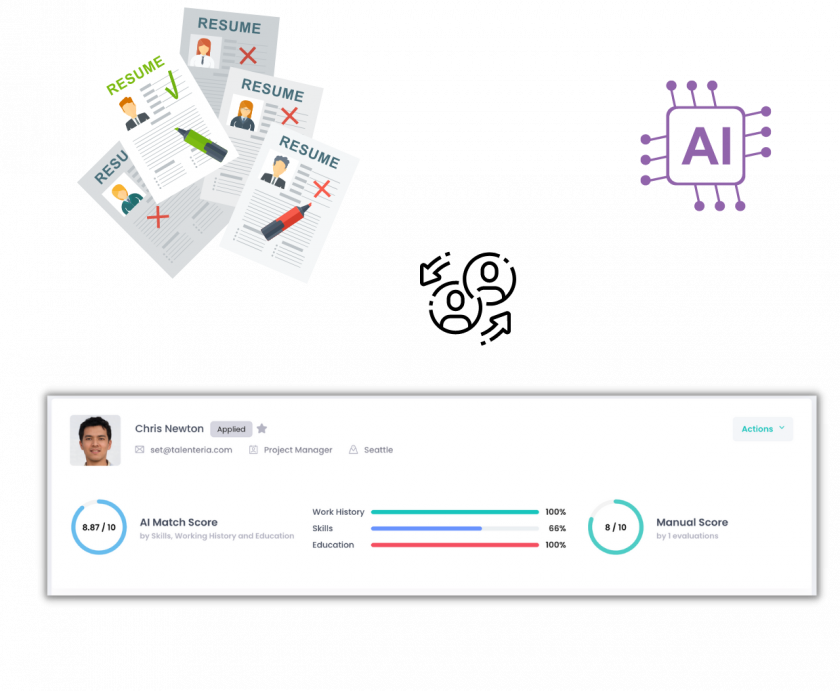 AI Resume Screening and Matching
Accelerate your hiring with fewer efforts using our AI-powered candidate scoring and screening technology, designed to quickly identify top candidates and help you make informed hiring decisions at lightning speed.
AI scoring and screening based on candidate experience, skills, and education
Automated resume parsing in multiple languages
Matching candidates from talent pools to open jobs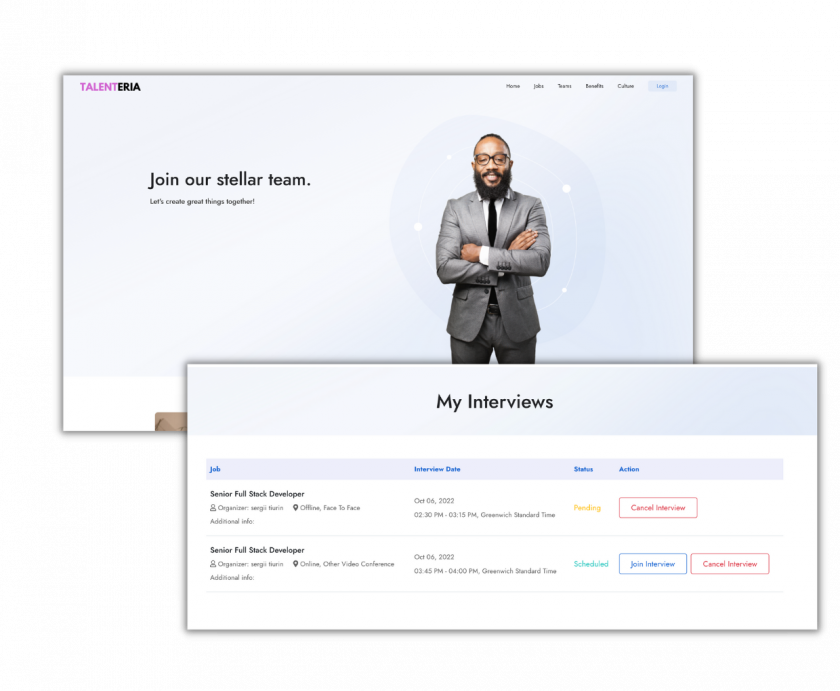 Candidate Experience and Career Sites
Make a great first impression and deliver an outstanding candidate experience at every touchpoint of the candidate journey.
Candidate Self Service Portal
Career Site Builder
Job Search and Online Application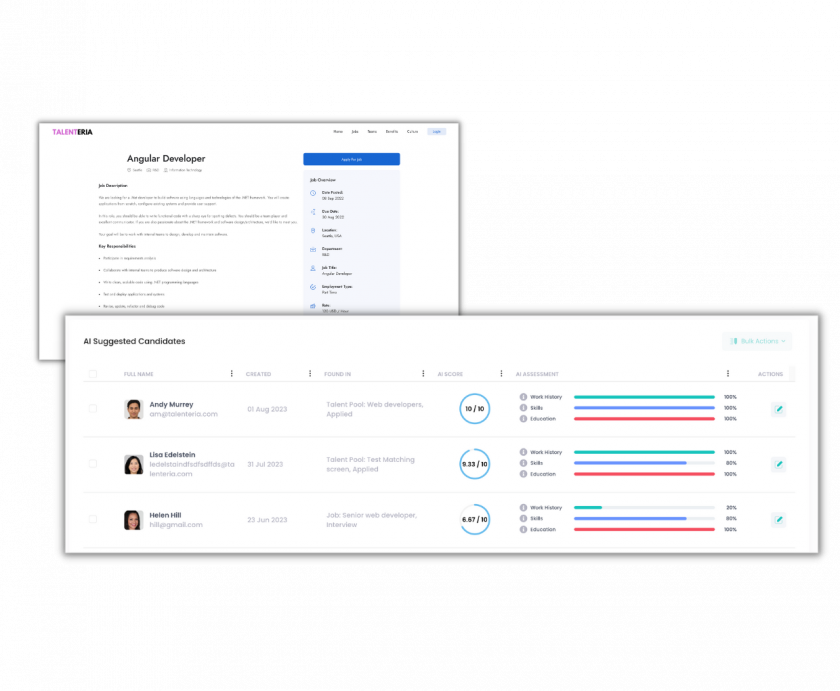 AI Sourcing and Matching
Supercharge your talent acquisition with our AI-driven candidate matching and sourcing, enabling you to utilize your talent pools and discover the perfect candidates faster.
Automated AI search in the internal talent pools
AI recommendations based on skills, experience and education
Engaging outreach emails to the best candidates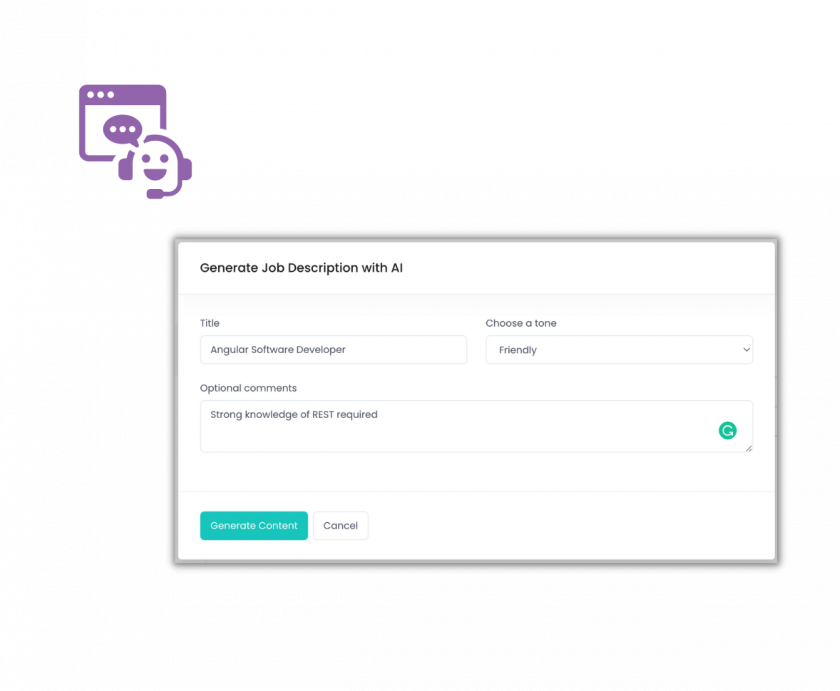 AI Content Generator for your recruitment tasks
Experience the future of recruitment marketing with our AI-powered content generator, effortlessly creating compelling and personalized content
Generate engaging job descriptions and career sites
Create personalizing candidate emails
Get interview questions for any role in seconds
Why Talenteria?
Gain a competitive edge in recruitment with Talenteria AI hiring software
Empower your recruitment with AI
Integrated with OpenAI / ChatGPT recruitment chatbot, candidate screening and scoring, generating job descriptions, candidate emails, and career site content
Create an outstanding candidate experience
Build a smooth candidate journey and ensure the efficiency of each candidate touchpoint with AI recruiting software
Create recruitment content with ease
The AI-driven recruitment content generation feature empowers recruiters to create compelling and personalized job descriptions effortlessly.
Promote employer brand
Showcase your employer brand to prove yourself as the right place to work with AI-powered Career sites and pages
Reduce time and cost of hire
Talenteria's AI-powered features, such as resume parsing, candidate scoring, and automated interview scheduling, significantly reduce manual tasks and streamline the hiring process.
Eliminate bias
AI in Talenteria helps remove unconscious bias from the candidate selection process, promoting diversity and inclusion by focusing solely on qualifications and skills.
Here's what our customers say
Talenteria has significantly improved our hiring process, making it faster and more efficient than ever before. The platform is incredibly easy to use and has helped us provide a better candidate experience.
Here's How It Works
Create a Branded Career Site
Build a stunning site in hours with our easy-to-use career site builder and AI-powered content generation. Promote your employer brand, drive talent acquisition, and deliver an outstanding candidate experience.
Launch AI Recruitment Chatbot
Talenteria Chatbot engages candidates 24/7, providing instant answers to their questions, guiding them through the application process, and ensuring a seamless candidate experience.
Publish Job Openings
Create and manage all the jobs or import them from your HR system. Easily create job ads with AI hiring software and broadcast the job openings to your career site with customizable landing pages.
Screen and Score Resumes with AI
Talenteria AI Resume Screening automatically extracts relevant candidate information, while the intelligent Scoring system ranks candidates based on their skills, education, and experience, ensuring you never miss the best fit.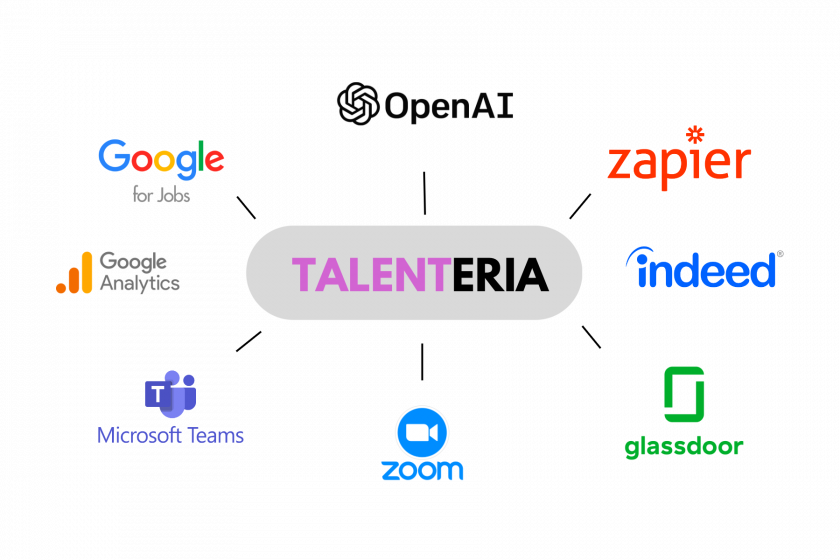 Hire the Best Candidates
Collect the evaluations from your team members and choose the perfect candidates for your organization. You can issue a job offer right in the system, and send it to a candidate who will be able to sign electronically.
Analyze performance
"Do – analyze – improve – repeat" is an eternal circle that guarantees success for any business process, including hiring. With Talenteria AI hiring software, you can analyze your career site's and job ad performance, visualize data for your team, and make better hiring strategies for your future.
Empower your Recruitment with Generative AI!