Talent Pools and AI Matching
Speed up future hiring by building and utilizing your talent network.
A talent pool is a structured database of potential job candidates with relevant skills and qualifications who have expressed interest in working for a company. Talent pools are the most productive way for recruiters to find the perfect candidate.
Source Candidates from Talent Pools with AI
Supercharge your talent acquisition with AI-driven candidate matching and sourcing, enabling you to tap into your talent pools and discover the perfect candidates faster.
AI-powered candidate search based on skills, education and experience
Personalized engaging emails to candidates written by AI
One-click conversion of talent pool members into job applicants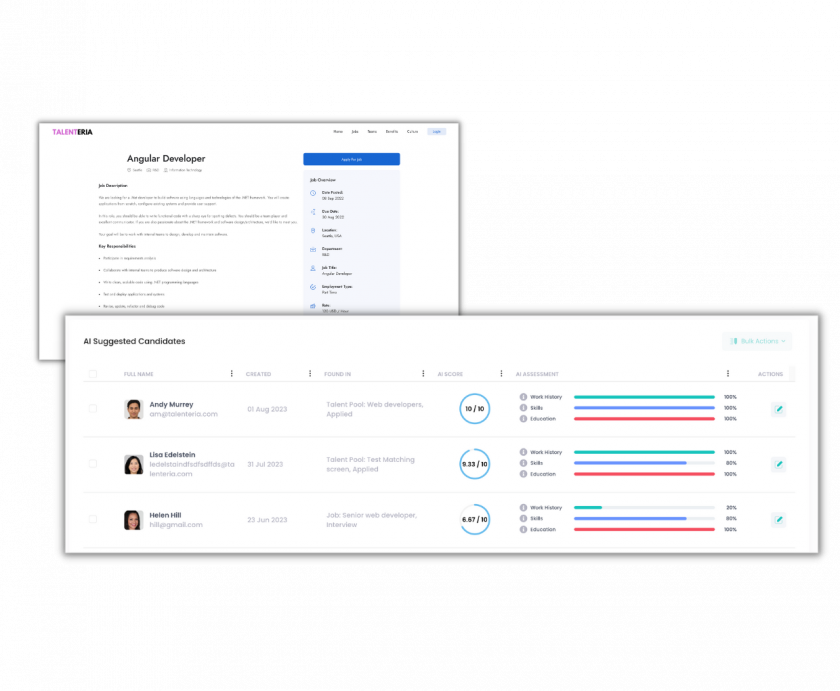 Build your Talent Pools
Talenteria allows you to build unlimited talent pools for different job categories, teams or locations. Include any candidate in a talent pool and store their profile for future needs. With Talenteria, hiring managers can:
Create dedicated talent pools for teams and job categories
Add candidates into talent pools with one click
Search for candidates in multiple talent pools
Grow your Talent Network
Expand your talent network effortlessly by capturing candidates directly from your career site, engaging with prospects through our innovative recruiting chatbot, and even re-engaging with previously rejected candidates from other roles
Captivate talents by showcasing your brand and opportunities on a compelling career site
Leverage our AI Recruiting Chatbot to engage candidates seamlessly, offering personalized interactions
Transform past rejections into future successes by revisiting candidates who might now be the perfect fit
Empower your Recruitment with Generative AI!