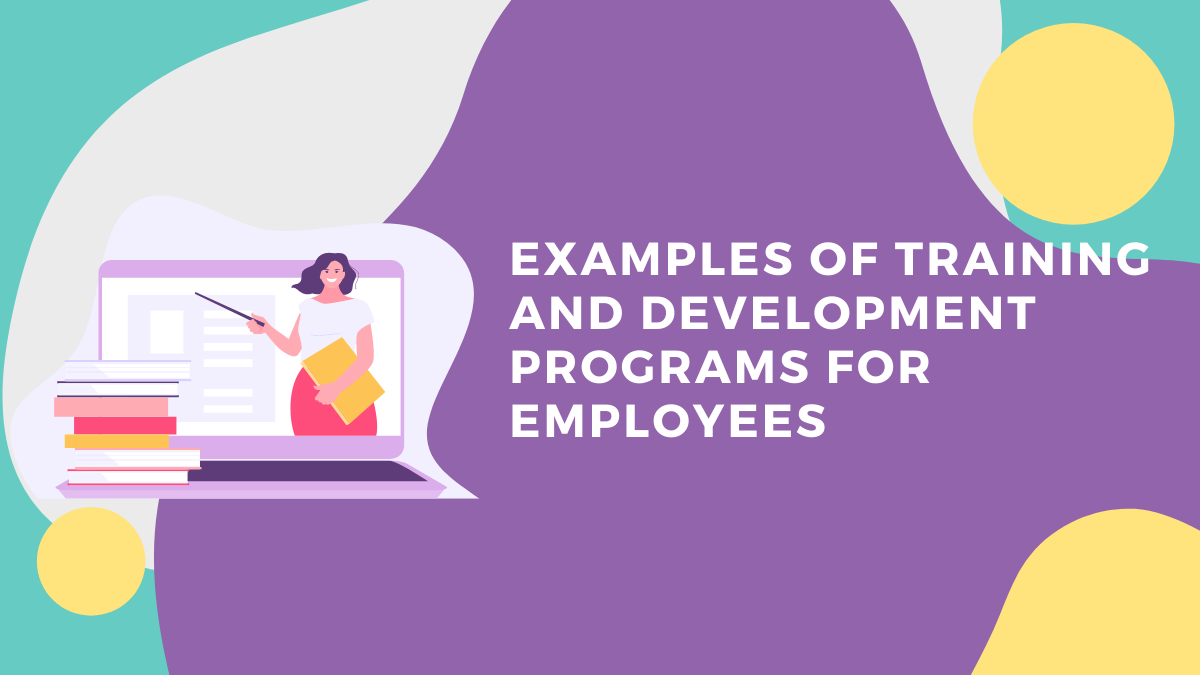 Examples of Training and Development Programs for Employees
Employee training and development programs are used to strengthen and improve your employees' skills, productivity, and knowledge. These programs are composed of different activities that have flexible times to accommodate your employees' schedules.
Equipping your employees with proper training will ensure that they will adapt to the constant change in market demands. These are only useful to a company once appropriately implemented, considering that one particular training doesn't suit everyone.
Here are some employee training examples:
On-the-job training
Coaching or Mentoring scheme
Time-management program
Leadership program
Personal development scheme
Things you should keep in mind in creating your program are effective program management, establishing your goals and criteria, creating your marketing plan, and giving your workers tasks to see their improvement. After knowing what an employee training and development program is, here are the best examples of training and development programs for employees.
Examples From Different Companies
Find out about the different programs used by various companies:
1. Amazon.com
Amazon, a giant e-commerce company with over 200,000 employees worldwide has the best training programs. Amazon says it wants its hired employees to be bold and ready to take control. To successfully provide services and products to consumers, they train them starting from their first day.
It is reported in 2019 that Amazon will invest 700 million US dollars in technical skills training to improve and retain 100,000 employees.
Here are Amazon's Employee training programs examples:
Amazon provides a 30-day training and leadership program to the new employees to prepare them for their roles in the company, build their confidence and improve their skills.
The "Career Choice Program" is where Amazon will pay 95% of the employee's tuition, textbooks, and other educational needs by taking in-demand field courses.
The company also releases their "Virtual Contact Center," where employees will be trained in working from home.
2. Seattle Genetics
Seattle Genetics, a biotechnology company that develops antibody therapy against cancer, may be small in terms of the number of workers, but it's well-known for its employee training programs. They want applicants who keep on improving to achieve their goals while working effectively with others.
An example of a training program by Seattle Genetics is the attendance of job-related conferences and seminars. Other training programs offered by the company that are focused on developing the knowledge and skills of their employees include:
Employee tuition reimbursement
On-site training courses
3. SAS
The business leader in analytics software and services, SAS, with almost 20,000 employees worldwide, is also known for its employee training and development programs. The company hires applicants who don't want to be focused on one thing but can adapt to the fast-changing environment around them.
The programs offered to their employees are leadership and career development focused. SAS's goal in providing different training programs is to boost their employees' skills and talent to lead them to higher management positions.
The SAS Academics Program is centered on sales and technical skills development, ensuring that fresh graduates are ready for the daily challenges of having a full-time job. Other SAS Employee training programs examples include:
Professional training and development for leadership programs
A career resource center and mentoring
Customer Service, Sales, Technical, and Marketing Programs
4. AT&T
AT&T provides world-class high-speed internet, mobile, entertainment, and voice services. It also offers a phenomenal example of a training program, offered to over 280,000 employees in their company. As a company that provides modern services to its customers, AT&T doesn't believe in using traditional systems to find new recruits.
The AT&T University program focuses on leadership and management programs based in their headquarters in Dallas but has satellite campuses all over the US. Its goal is to improve its employee's competitiveness and knowledge of the modern digital world by skilling and re-skilling each one of them.
Georgia Tech and Udacity create the first-ever "Online Master of Science in Computer Science or (OMSCS), which is not only for their employees who want to enhance their knowledge but also individuals who want to step up in their technical career.
5. Etsy
Etsy is small compared to the other companies stated above, as it has only 1,500 employees. But Etsy utilizes an all-around technique on training and developing skills of their employees. Using traditional learning techniques like proven methodologies, coaching, online resources, and company retreats, Etsy makes its training programs easier than the others. The goal is to work together with their employees to know what career programs to take to lead them to career growth and success.
The "Etsy School" is where the employees are also the teachers. They can learn about different topics related to their job that will enhance their organization, critical, leadership skills, and perseverance.
Different Employee Training and Development Programs for Different Goals
Looking at the examples of training and development programs for employees of each company above, they addressed more than just technical skills. Developing your employee's soft skills like teamwork, leadership skills, and communication skills is essential for your workforce and company to grow. Keep in mind that no one can do these training and programs in one sitting. Remember the things you need to plan before starting to make your employee training programs.
Here are some tips that the companies above used that you might want to consider:
Give them options and freedom to choose from.
Consider offering tuition reimbursement.
Provide an internship program.
Create programs where your employees can teach others.
Give them opportunities to work with a higher position and essential projects.
Why Is It Important?
Why should these trainings be implemented? When using a well-designed training and development program, you are not only doing it for your company's success and financial gain. It will affect your employer brand and may add you to the list of the "best places to work," like SAS.
You are also helping your employees to enhance their skills and knowledge to improve their overall work performance. It will also help them to step up on their careers and feel valued, which other companies failed to do and lost their employees.
And what if you are looking to add employees to your workforce? In such a case, it's of equal importance to set up an excellent recruitment strategy in addition to your training programs. At Talenteria, you'll find all the tools you need to build a stellar career site and carry out recruitment marketing. Reach out today to learn more.