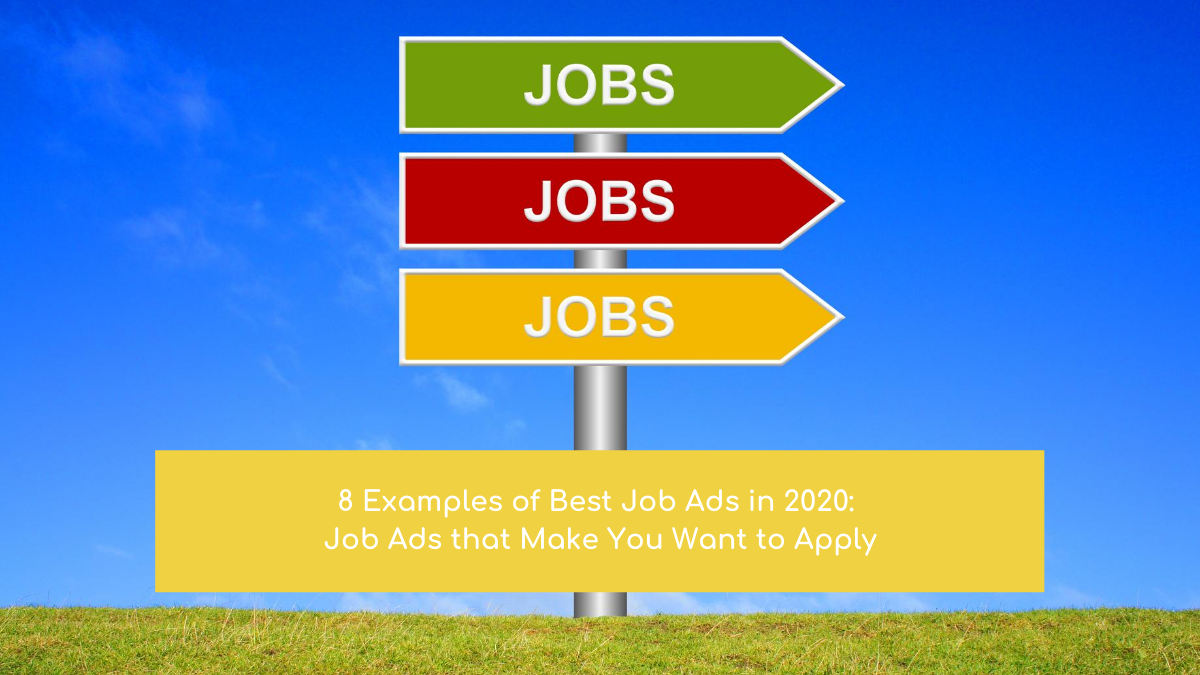 The task of finding the right applicant for your open position is very time and resource consuming, yet is incredibly rewarding. That's why more and more companies employ various recruitment marketing strategies to find qualified candidates. One of the main tools they use in their struggle is job ads.
A job advertisement is not a new thing, but recently there are more and more examples of unique and creative job ads. If you want to build a steady talent pipeline and learn more about the modern trends in the job advertisement, take a look at these examples of recruitment marketing at its finest.
1. Hungry Designers Wanted Ad from Apple
The design of this job advertisement heavily relies on Apple's recognizable employer brand. It attracts the potential candidates with an original and unique take on the famous company logo while providing a look at what future designers might have to work with. It is humorous and lighthearted while also being eye-catching to the target audience – the young and talented, yet hungry job seekers.
2. Twitter's Search for a Tweeter in Chief
Have you heard of the position of Tweeter in Chief? Well, no one did, until this job advertisement by Twitter. While it might sound weird, it only entails managing Twitter's official account. The whole job description is also inventive and cheeky, so it should grab the attention of any person seeking career opportunities.
3. On-brand Instagram Job Ad from Starbucks
This is another example of the job ad with an immediately recognizable brand presence. Only this time, it is done by using a product rather than reimagining the logo. The ad was posted on Instagram, which allowed the company to dip into a wider talent pool than what it would be if it was posted on any career site. While the whole approach is simplistic and minimalistic, the info the ad provides is also reduced to the bare minimum.
4. Famous "Tattoo Artist Wanted" Ad
This viral job advertisement created by Berrge Tattoo challenges people during their job search. If you have the fine motor skills, proficiency with a pan, and patience needed for a true tattoo master, you will be rewarded with a QR code that will provide you with the contact information of the employer. It's a fun way to engage with potential applicants while also setting the basic requirements for a person to apply.
5. Fiverr's Generic Recruitment Video
This job ad in video format is so full of irony and self-awareness it's palpable. Fiverr really presents you with the most generic advertisement, full of cliché and cheese, but it still somehow works in the end. While it might not be for everyone, they've still managed to show the full extent of the candidate experience you will be going through if you decide to contact them.
6. Lego Career's Twitter
Twitter often feels underutilized as a platform for the job advertisement. This makes this entry in the list stand out even more. LEGO has dedicated and branded a whole account to make it easier to apply for a job at the company. It has made employee referrals a lot simpler as well. Among job positions, you may find a lot more helpful information there as well.
7. Napoleon Dynamite-inspired ads from MailChimp
Seeing the job boards full of ads with generic faces, empty eyes, and fake smiles, it is refreshing to see actual employees assist with recruitment willingly and cheerily. While we don't know who at MailChimp came up with a design, it works exceptionally well. It greatly represents the personality of each employee and makes you want to apply to each department.
8. Booking.com – Colorful and Informative Ads
While the job ads at Booking.com represent a classic approach in recruitment marketing, it is still done with a certain style and utility in mind. Under the banner that represents their diverse team, they've included any information on any position you might be interested in, from a job in software development to a position in project management.
Best Practices and Strategies You Can Follow
It's difficult to determine the best approach in job advertisements when it comes to each specific project. Some things might work in one case, while others might not. There are some of the general ideas you should stick to:
Use more visual aide, both in terms of images and videos;
Think about the target audience - who do you want to attract with your ad?
Make sure your advertisement is eye-catching and memorable;
Represent your company culture and include the voices of other employees;
Utilize social media to its full extent;
Challenge the potential recruits to get their attention;
Don't be afraid to use humor;
Provide all the info necessary, but don't overcrowd your ad with text.
In Conclusion
We've explored some of the most memorable job adverts companies have ever made and what makes them so great. Unique and unforgettable ads that bring a smile to your face are most likely to result in huge interest in your position and will attract talented and creative people to join you.
Now that you know some of the most important recruitment marketing strategies, it's time for you to create a job ad that deserves to be on this list. Research the interests of your possible employees, add some of your brand identity, and design the best job ad for you.