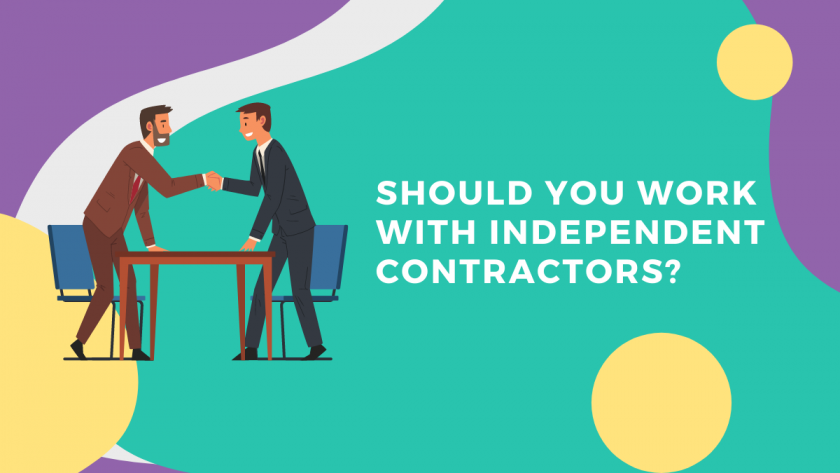 Your workplace is not just composed of your employees. You'll have additional jobs that you and your employees will find hard to manage within the company. Because of this, you can recruit workers who can do specific tasks on a settled timeline only.
Independent contractors take on jobs where they don't have to commit for a long time. They work individually within the organization, starting and finishing the task by themselves. If you're thinking of hiring independent contractors, this is the right page for you.
What Is an Independent Contractor?
If you have independent contractors, you have non-employees who work for you. The contractors have specific work they do, and you don't need to give them instructions and intense training. You just need to wait for them to finish by the deadline written in your contract.
For example, let's say you need sales agents to promote your new product in the market. With the busy schedules of your employees, you need to hire contractor agents who can work with you. Then, after the hiring period, you got ten sales agents. You made a contract with them to present your product in different market places.
The contract you agreed upon was for a month. Thus, for one month, the agents will do the job of introducing and promoting your products to the assigned companies you've given them. If you reached the target sales, you could provide the contractors with additional commissions, together with their final payment.
Examples of independent contractors include:
Agents
Representatives
Specialists
Brokers
Assistants
Advisors
How Independent Contractors Work
If you hire an independent contractor, you have to set a contract for both of your parties. You need to have a clear discussion on the duration of the work and the payment. When you reach an agreement, you can both follow and sign the contract.
Independent contractors have their own way of working with a task. You just have to check on the progress from time to time if you want updates. You can have set up periodic calls or meetings to stay up-to-date on the job's progress. With the contract settled, you can expect them to follow the given deadlines as they do their jobs on time.
Keep in mind that you can't demand that the independent contractor must only work for you. Usually, written in their contracts, they are allowed to work with other companies rather than having a single employer.
Benefits of Working With Independent Contractors
If you're planning on hiring additional workers, here is how an independent contractor benefits you:
You don't have to pay additional taxes - If you have permanent employees, additional expenses such as security, insurance, and healthcare are added to their monthly salaries. With independent contractors, you just have to pay the labor fee and don't have to add other expenses.
You don't have to check on them all the time - Independent contractors know their job and priorities to meet the deadlines set for the works assigned to them. You don't have to monitor the progress all the time since the contract you've signed with them has terms and conditions that they need to follow, especially on the things they have to finish.
You don't have to set training - The workers are independent and have established their credibility long enough. You can trust them with their experience and reputable qualifications earned.
You don't have to worry about additional workloads and timelines - Since your company has been dealing with a lot of workloads. You can manage to finish them on time with the help of independent contractors.
Disadvantages of Working With Independent Contractors
Even though you might be considering working with independent contractors, be sure to review the disadvantages:
You'll have a hard time finding credible contractors - If you like the work of the contractors and they've already finished, you may have a hard time hiring them again. Good contractors are in heavy demand, so another company might hire them.
You'll have no control over the worker - Independent contractors have their way of doing things. You don't have the power to make them do other tasks instead.
You'll need to hire fast - With many workloads, you need to hire fast and may compromise the qualifications of the contractors.
Independent Contractor vs. Employee - What's the Difference?
Employees of your company are different from your hired independent contractors. Here are the main differences between the two.
| | |
| --- | --- |
| Employees | Independent Contractors |
| Works with the company regularly | Works with the duration of the contracts |
| Have benefits such as insurance | Benefits are not usually included in the contract terms |
| | Own working hours as long as the business is finished on time |
| Can have overtime payments | Fixed payment based on contract |
| Works for your company solely | Can work for other companies |
Hire Independent Contractors: Quick, Easy, and Affordable With Talenteria
It's undeniable that hiring independent contractors can optimize your company's workforce. Are you ready to begin the search for great contractors? This is where Talenteria comes in! We are the nation's premier career site builder and recruitment marketing platform. With features such as talent pool management, application forms, and career site publishing, you can attract top contractors to your opportunities. Reach out today to get started!