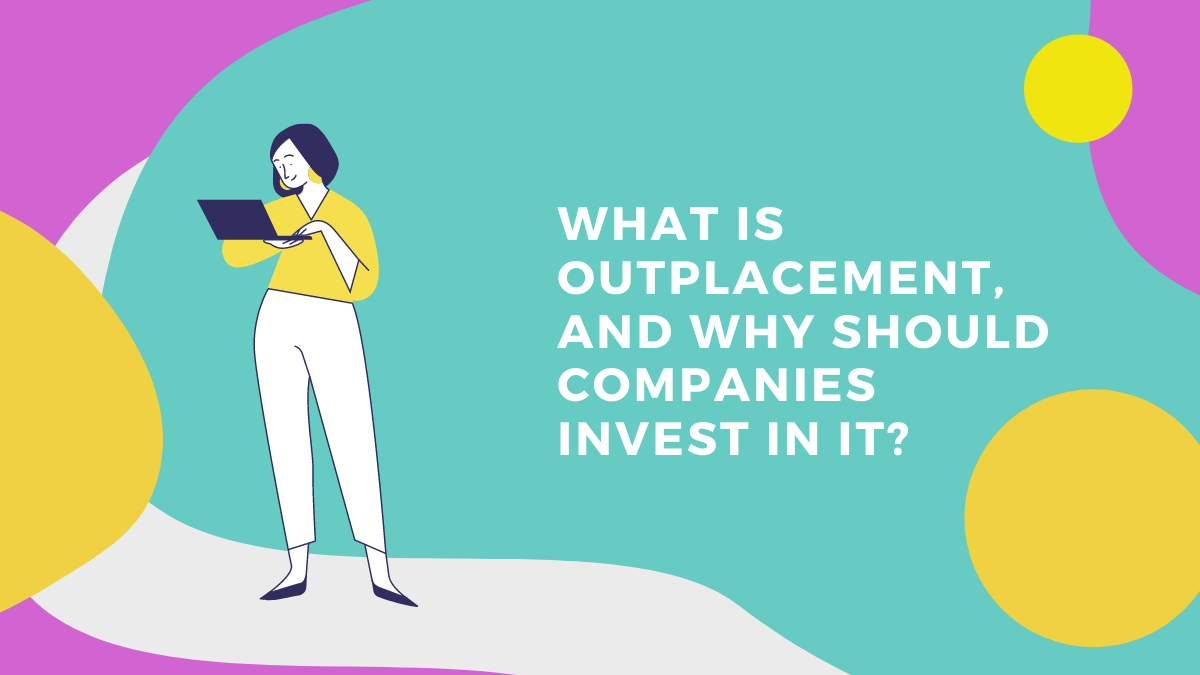 What Is Outplacement?
Are you thinking about your employees' welfare after a layoff? Outplacement programs can aid you in giving your workers a new beginning in finding their new workplace.
What Is Outplacement, and Why Should Companies Invest in It?
Outplacement is a way to compensate employees for unexpected layoffs due to economic problems and company challenges. Through outplacement services, your workers will have a program that'll help them look for new job opportunities.
Outplacement includes the following:
Resume checking
Interview preparations
Company recommendations
Career planning layouts
Training and seminars
Consultations for job opportunities
Job coaching
Job hunting tips
With the programs listed above, you'll not only help your employees, but you'll also be able to build your company's reputation and brand. Your employees will speak highly of your company with the care you've shown towards them, even at trying times.
Here are more of the benefits you'll have when you create outplacement programs:
Laid-off employees can land new jobs in no time. Thus you'll be able to get up from the challenges you're facing one step at a time. You can start with your next problem, which involves the economic aspect of your business.
Your remaining employees will be loyal to you since they know how much you care about them, especially with the extra effort of outplacement services. Your current workers won't be afraid of the future since someone has their back.
You'll avoid any lawsuit claims for unlawful termination. The outplacement services will assist your exiting employees in seeking a new job. You'll be their support system, and at the same time, they'd know they have someone to help them start again.
You can maintain productivity within the company. If you've just abandoned your terminated employees, it will create an ambiance of fear in the company. Thus, your remaining workers will be less productive, but all your employees will feel secure with your care and support towards each of them with the outplacement. So, the environment in the workplace will not change.
The Right Thing to Do for Employees
Since your employees entered your company, they've made many efforts to help you grow and keep the business running. However, you will encounter many challenges that'll lead you to lay off some of your workers. To appreciate the time and work your employees have done for your company, it's best to give them concrete ways to recover after losing a job.
Here are some of the things you can do for your employees:
1. Plan a Consultation
Know how your employees are feeling after the termination. Get to know their needs that you can help with as of the moment. Motivate them that you'll be helping them to start again through the outplacement services you can offer. Although it won't secure them another job so fast, it can help them plan out the new path they'd be taking.
2. Resume Evaluation and Recommendations
Through resumes, HR teams will have their first impressions of your employees. So, with the knowledge and experience of your human resource team, you can ask the team to check the resumes of your ex-employees that they'd be submitting to other companies to ensure a high possibility of hiring.
3. Give Interview Preparations
Interviews are an essential part of getting a job. Create preparatory exercises for your ex-workers to ace the interview. You can make mock-up interviews to practice your employees on the possible questions that the hiring manager will ask them. Give additional tips on how to present themselves in front of an interviewer. With this, your previous staff members will be less likely to get nervous since they are well-prepared.
One good tip you can give your ex-employees in interviews is the way they should dress. Most hiring managers will look at the decent clothes that make job seekers look professional. Tell your employees about the dos and don'ts in using too much makeup, accessories, and more.
4. Provide Company Hiring Suggestions
With the connections your company has built throughout the years, you can recommend several businesses with job openings for your ex-employees. You can give your workers the list of reputable company partners to ensure that your ex-employees will be hired to a trusted business.
5. Help With Career Plan Layout
Your employees can feel the struggle of starting from scratch again. You can help your ex-workers by assisting them in creating a career plan to guide them into envisioning the future they want to achieve. Your ex-employees will have the drive of not giving up just because a door has closed for them.
6. Open Training and Seminars
Before your employees leave the company, you can enhance the skills they have by opening training programs. You can make sure that wherever they will go, many companies will be hiring them with the qualifications they gained by growing their abilities in your business.
For example, you can train your employees on effective communication in a virtual and physical setup. Effective communication will help them write emails and correctly talk with employers. Hence, they can avoid any informal communication that will make them look unprofessional.
7. Offer Job Hunting Tips
You'll be the support system of the staff members who left your company. You can back them up by giving helpful tips in looking for a job. You can share how companies usually post hirings in newspapers, and today most online. Give your ex-workers advice with the first impressions of employers, so that they will be careful.
8. Supply Job Coaching
If your ex-staff members get hired with a new job unfamiliar to them, you can open your company to answer questions on the tasks that are difficult for them. For example, the new job is related to marketing, and your employee worked in the promotion department before. You can ask your top-rank staying employees in marketing to teach your ex-worker the basics of marketing.
9. Follow Up on Communication
Once your employee has exited the company, you can contact them from time to time to ask for updates on how they're doing. Ask them if they need any help, mainly if they haven't found a job after months. You can recommend any job openings you know of to give them opportunities.
10. Give New Opportunities
If you're able to rise again from the company problem, you can contact any of the employees who haven't found a new job to work for you. Make sure you have all the information and contact number of the employees you laid off. Hiring your previous employees can be a win-win situation since you already have their records and know how they work. Also, with the care and support you've shown them, the employee will work harder to give an appreciation to your efforts.
Expert Advice for Job Seekers
If you're going to pursue the outplacement services you will offer to your employees, then you might as well give them the following tips:
1. Always Remember That the Programs Are Opportunities
If you think of the programs provided as a compensation package, it will not help you make the most out of every opportunity. Instead of getting higher chances of being hired, you'll get lost with the job you'll pursue. You won't know where to start again, and you can't organize your thoughts where you might end up not being employed fast.
2. Think of The Service As Part of Your Expenses
If you're thinking that you're paying extra to avail of the outplacement services, you'll be much eager to use every resource and training provided by the company. With GetFive's service and coaching, you'll get through your new job in no time. So, given a chance to have job coaching, you can develop the right skills for your new career path. You can even ask for help if you're having trouble with your new work.
3. Get Tthe Contact Number of Your Coaches
It will be an advantage to have someone to turn to when you need help. You can get your coaches' contact information to message them when you have questions on resumes, cover letters, interviews, or even about your new job. Someone who is an expert on job seeking and placements will be an edge for you in between your competitors in job seeking.
4. Make Friends
At the toughest times of your life, it will help to have your buddy. You can make friends among the job applicants. You'll feel less pressured when you have someone who is going through the same challenges as you. You'll both be the support system for each other with every application you send out.
5. Build Connections With Every Program
In different outplacement programs prepared, you'll get asked by coaches to be in groups with other laid-off employees. Therefore, when you're all hunting for jobs, you can share different experiences that can help each other to land a new decent job. The peers you have can even recommend job opportunities available in the new organization they are working with currently.
6. Take Every Chance You Have
If speakers and mentors mention job openings during any programs and seminars, try your best to apply. Don't be discouraged if you have to start at a much lower position again; you can still gain your way to the top. Employers can also hand you job offerings once companies have known about you and your skills, but at the same time, you can take opportunities that are available for you to earn and save.
Finding the Right Outplacement Partner
When you're about to execute outplacement programs, you'll be needing a partner to help you handle every participant. However, you can't just choose any organization, and it will help a lot if you screen any outplacement partner you're thinking about. In this way, your ex-employees will be getting the most out of the service you'll be giving them, which can help you build your company's brand and reputation.
Here are some qualifications for your future partner in creating outplacement programs:
The best partner will help you create personalized programs that are in line with the participant's needs. Get to know the coaches that your partner is hiring. With this, you'll be able to assess the matching compatibility of each coach for every participant.
In modern times, technology has been an important part of every event. Ask about your partner's technology and software usage to help your exiting employees get updates of the programs they can avail.
Become acquainted with the materials and methods proposed by your partner in executing the programs. A variety of methods is much preferred since your ex-employees learn in different ways. You can't just focus on one method for visual learners; you also need to think about those who learn well by reading and listening.
Learn about the effectiveness of the programs your partner has created over the years. You'll be able to assess how the plans they have will help your employees. Don't settle for projects that did not work, and you'll just be wasting time, money, and effort.
Make sure that you'll get the most service from what you'll be paying for using your company's resources. Ask about the cost of the whole program so that you won't be wasting money if the price is not worth the services your partner offers.
Plan Your Outplacement Programs Now
Outplacement programs are both an appreciation and care you give back for the efforts of your employees. Hence, you need to create the best outplacement services that your ex-workers could ever ask for from an employer. With the help of Talenteria's career site, you can make your first attempts to help them with resume writing, filling out application forms, and searching for job openings that your employees can avail themselves of, especially in these trying times.