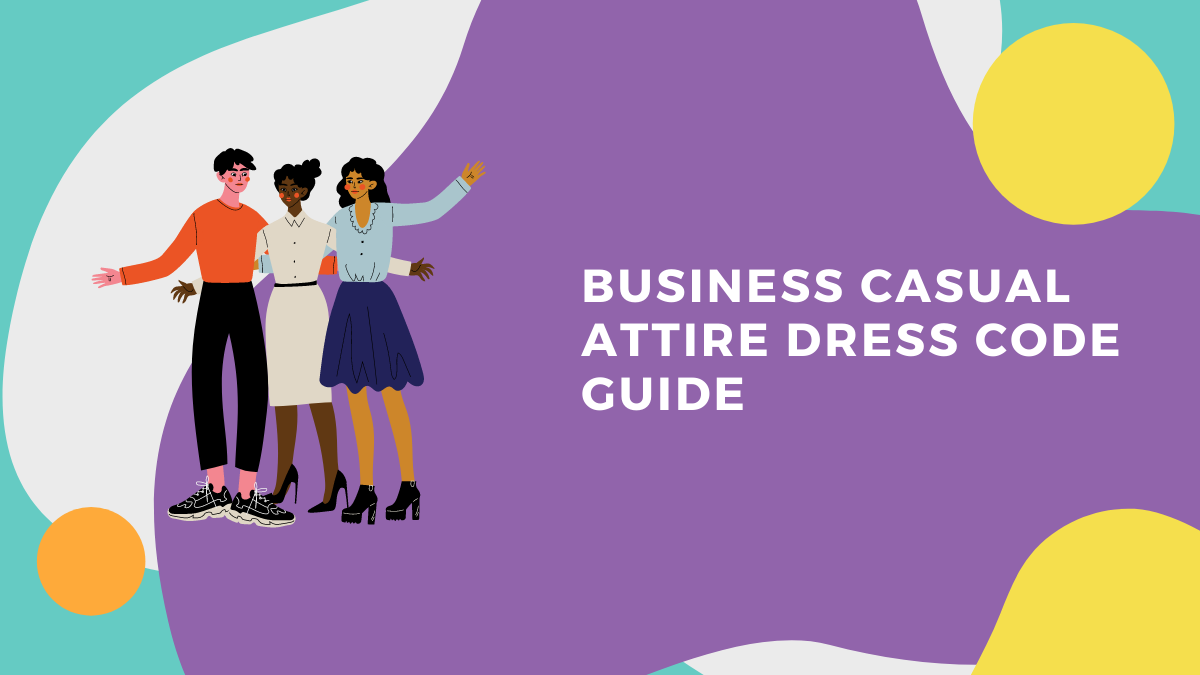 A Guide to Business Casual Attire
Many kinds of dress codes are implemented in different companies, ranging from casual to business professional attire. The clothes you wear depend on the type of office or company you work in.
One of the most common dress codes is business casual attire. And there have always been misconceptions on what it means when you're required to dress in business casual attire. This article will discuss what exactly "business casual" means and guide you on how you can distinguish it from other dress codes.
What Is Business Casual Attire?
What is business casual? Business casual can have various meanings in each company, city, or industry. Most people are confused about what they should wear when required to be in business casual attire. There's a chance of overdressing or underdressing when you don't learn about what this dress code means.
Business casual is generally defined as attire that combines traditional business wear and a relaxed style while still being appropriate and professional enough for workplaces. This dress code is common in companies and organizations that clients and customers often visit, like law firms, public services-related institutions, and financial institutions.
Business Casual Basics
Wearing business casual equates to looking relaxed and professional at the same time. There are some general and basic things you need to remember for business casual attire, which include:
Avoiding snug, too tight, and too baggy clothing. You can wear fitted and tailored clothing instead.
Wear appropriate footwear such as leather shoes.
You can try investing in the quality of your clothing to show that you're serious about your job.
Ensure cleanliness. Everything must always be clean and pressed with no signs of wear.
Keep your hairstyle polished yet straightforward.
Maintain clean and neat nails.
Fix damaged clothing immediately.
What to Wear for Women?
Of course, men's clothing and women's clothing are very different. Women required to wear business casual must have these things in their wardrobe: skirts, dress slacks, blouses, jackets, hosiery, and closed-toe shoes. Although there might be some offices that allow sandals, you must make sure that it's allowed before going to work wearing that.
For women's business casual attire, you can choose from these clothes:
Top: tailored dresses and skirts with lengths not higher than the knee, cardigans, neutral or solid colored sheath dresses, sweaters, turtle necks, blouses, polo shirts, dressy tops, elegant sleeveless shirts, blazers, button-downs, and vests.
Bottom: knee-length skirts, dress pants (cotton, khaki, twill, corduroy), pencil-cut skirts, and dress pants in neutral or solid colors.
Shoes: flat shoes, pumps, closed-toe shoes, open-toed heels, and closed kitten heels.
Accessories: simple belts and jewelry.
What to Wear for Men?
There are fewer clothing choices for men. Appropriate business casual attire for men includes dress slacks, button-down shirts, chinos, dress shoes, and dark-colored socks. You can stick to the following clothes:
Top: neckties, neutral-colored or solid-colored short-sleeved or long-sleeved button-down shirts, sport coats, sweaters, button-ups, and shirts with collars.
Bottom: neutral-colored or dark-colored dress slacks (khaki, wool, cotton), semi-formal pants, or jeans with black or brown leather belts.
Shoes: loafers, dark-colored leather shoes, and tie-up shoes.
What NOT to Wear?
There are particular pieces of clothing you must avoid wearing when the dress code is business casual. Generally, it's inappropriate to wear ripped jeans, flip-flops, and t-shirts to a workplace. You must never forget the "business" in the term, so you don't mix it up with other types of attire, such as casual and smart casual. They're different kinds of dress codes.
Here's what to avoid wearing when asked to wear business casual attire:
Ripped jeans
Denim clothing
Sandals
Boots
Sportswear
Hooded sweatshirts
Strappy sandals
Spaghetti straps
Crop tops
Leggings
Off-the-shoulder shirts or dresses
Shorts
Backless tops
When There's No Dress Code
There are days or instances when a workplace or a company doesn't have any dress code. Without any required attire, there's freedom in terms of clothing. However, this doesn't entirely mean that you can wear whatever you want. You're still working so you must wear appropriate clothes.
Here are some tips you can follow in choosing what to wear when you don't have a dress code:
Wear attire that increases your self-esteem and makes you feel confident.
Remember to be still presentable and clean.
Complete your look with easy and simple accessories like a scarf, a necklace, or a pair of earrings.
Wear nice shoes even if someone else in the office isn't.
Wear printed and colored tops or bottoms in a professional way.
If it's still for an interview, you should dress to impress.
Get the Dress Code Right
Although it's more common to have a business casual dress code than no dress code, what's important is that what you wear is accepted within your workplace. This means that when you wear something, make sure you aren't breaking any policies or rules.
Looking to fill your workplace with top talent that are not only good at their jobs but respect the dress code? Find the best candidates who'll follow your company rules and fit in your company culture with Talenteria.