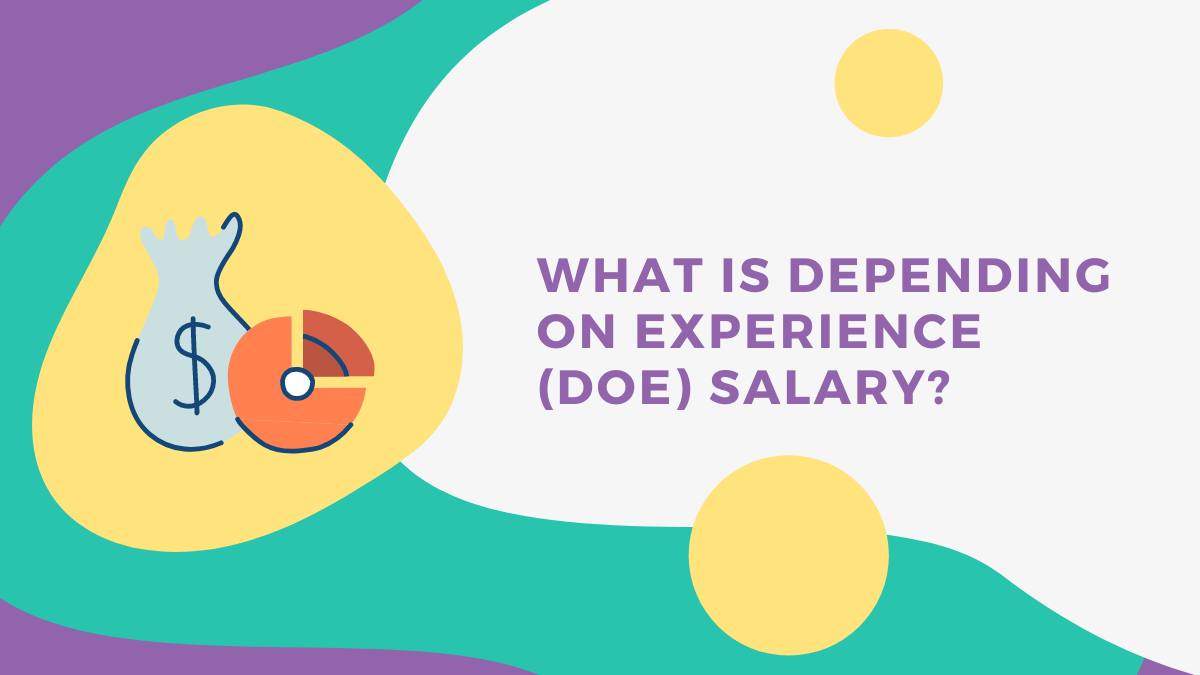 How important is getting or having a job, and what are the main factors that affect unemployed and currently employed individuals in choosing where they will apply? One of the reasons why people look for a job is to have a stable income. A study shows that career growth, absence in salary raise, and low pay are the main reasons employees quit their job and find better opportunities.
There are job seekers who choose to see the qualifications and roles rather than the salary. Still, most job applicants' decision to take a position is due to the compensation offered by the company. Reports say that 74% of job seekers want to see the salary on a job description. As an employer or HR manager, compensation plays a significant role in handling each job position's budget.
Nowadays, some companies or agencies don't post the salary ranges and replace them with DOE instead. Maybe you have encountered DOE while searching for a job, but what is it? DOE, or salary depending on experience, gives the company the right not to include salary ranges in their job advertisements.
DOE stands for a job's experience-based salary and is a vital part of creating job descriptions or delivering referrals. The compensation was excluded in the job post as it will depend on the applicant's experience and is open for negotiation.
DOE Pay: A Closer Look
DOE or Depends on Experience is commonly used in job postings instead of the salary range, which means the candidate will be paid based on their work experiences and skills. DOE or salary depending on qualifications, works the same as DOE. In some places, DOE is called Commensurate with Experience.
Before using the term DOE in the job descriptions, you have to look at the Bureau of Labor Statistics' Occupational Employment Statistics database to see the range of wages for each designation by location or look for surveys done by professional organizations for reference.
It is easy to use the term DOE in a job post; just add the acronym at the end or in the section that says "salary" or "compensation." In this way, only interested applicants will apply. When the company uses DOE in their job descriptions, it doesn't mean there is no fixed amount. You should still be willing to pay more for a top candidate who has better qualifications.
Discussing DOE Salary With Candidates.
After posting the position you are hiring for, the next step will be interviewing the applicants and discussing their salaries. Before meeting the potential candidate for an interview, do a little research on the average wages for the position.
Define the required skills, level of experience, and knowledge for the position, then make a list of qualifications that you may consider if it turns out that the candidate doesn't meet all the requirements.
During the interview, you should learn more about the applicant, ask them their expected salary, and then tell them your offer. Detailed salary negotiation is a must when you are ready to make your best offer. If you know the candidate is qualified and is a top talent, do not lose them over a small amount. Make sure you have prepared another offer like benefits from the company if you can't meet their salary expectations.
Consider them as another client who is vital to your company. But always stand firm and know when to end the meeting and leave if you are sure that the applicant is trying to make you agree to their terms only. Once you got the deal, write a report or contract on what happened for future references and legal purposes.
DOE Pay: Advantages
Here are the compiled advantages in using DOE or salary depending on experience.
Using DOE will simplify your job postings.
You will have time to check the candidate's background, qualifications, and work-related experiences before offering a salary range.
It will show the potential candidates that you can handle and open to salary negotiations.
By focusing on their experiences, you can reward the candidate who exceeds the job's minimum job requirement with more benefits or a higher salary.
It will attract candidates who are genuinely interested in getting the position rather than other companies' high wages or benefits.
DOE pay gives you the power to negotiate and make the candidate feel valued. Some job seekers wish to be paid depending on their skills and years of experience. A negotiated salary makes them feel important and appreciated.
Companies use DOE to keep their salary per position in private to help to maintain a good working environment.
DOE Pay: Disadvantages
It is best to know the advantages of salary that depends on experience. Still, it would help if you also considered the disadvantages it may affect your job hiring or the company. Here are some disadvantages of using DOE in your job postings:
Most job seekers want to know the salary ranges for each job position and may not want to apply, assuming it is not worth their time and effort.
It can be a waste of time because it will only attract applicants who are not interested in your salary range but don't meet all your required qualifications.
It might only attract stubborn experienced candidates instead of applicants who want and are willing to learn and grow.
The success of big companies that use the same method may not be the same if you are a small company with only one open position for hiring.
Attract the Best Candidates With DOE
Different factors affect an applicant's decision in looking for a job. Some will choose the location, career growth, and interest, while some will focus on their salary. HR managers also prefer experienced applicants over candidates who want to learn and vice versa, which is normal. But if you're going to have the top qualified candidates, you should have ways to get them into your company.
Are you a company that wants to create a perfect career site and miss zero candidates? With our feature-rich, modern recruitment marketing platform and career site builder, we at Talenteria promote and connect you to the top talents you need for your company! Learn more about us and our services, and get a demo today.