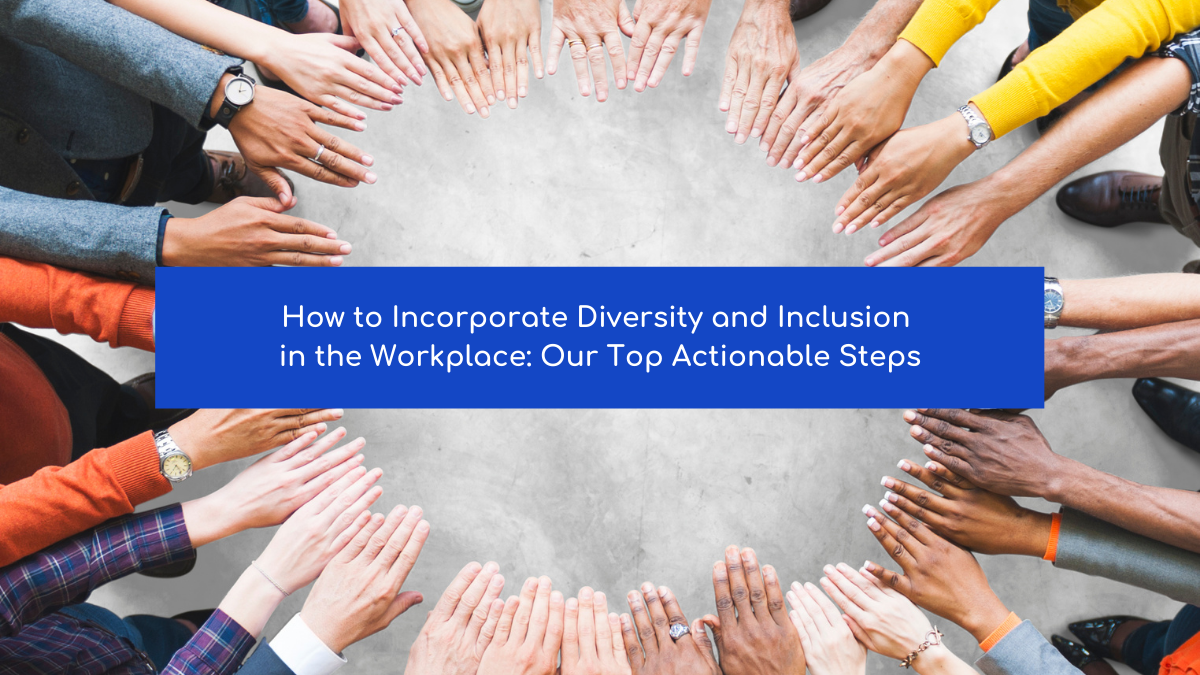 Racial diversity and inclusion have been a hot issue in the HR industry for the past couple of decades – but now the sphere has expanded to cover sexuality, age, ability/disability, and more. Companies worldwide are actively making moves to include everybody and to confront racism, sexism, and ableism head-on. What actionable steps can your organization take to become more inclusive and promote diversity in the workplace? Read on to find out.
Use an Inclusive Workplace Model
There's a difference between being diverse and inclusive. It doesn't matter how diverse your team is if a member feels uncomfortable in the work environment. This is why inclusion is important. You must make it clear to employees that they are valued and respected, and that they should never have to hide parts of themselves in the workplace.
So, how do you foster inclusion in the workplace? There are seven main components of inclusion that you can incorporate into daily details of the work environment.
Make resources accessible. Give employees whatever support is needed – whether they need access to technology or resource groups, brainstorm natural solutions.
Let all employees have a voice. Hold focus groups or regular surveys that give your team members a chance to have a say in decisions that affect them directly – or even indirectly.
Show employees that they are worthy. Have conversations with them where you recognize their specific achievements. Let them know why they are valued!
Offer learning and development opportunities. To foster an inclusive workplace, employees must feel secure knowing that they have opportunities to advance in their careers. Without implementing development and learning into your company's core tenants, employees' innovation and growth may be limited.
Create a collaborative environment. When teams are connected through the workplace, they can use the key skills and strengths of each individual. One part of fostering collaboration is to give credit where credit is due.
Focus on intentional, inclusive actions. Put your money where your mouth is and focus on promoting inclusive practices and diverse programs. Interweave them in the values and mission of your organization and, over time, such diversity initiatives will become second-nature to your employees.
Develop a sense of belonging. Make your efforts at inclusion feel exciting, so your employees will want to rally around them. Take, for instance, Forbes' Kaleidoscope inclusion program. This program utilizes an internal marketing plan with happy hours, guest speakers, resource groups, and a hashtag – all of this generates buzz and fosters a feeling of community, thus embracing diverse employees.
Diversity and Inclusion Software
There are various kinds of diversity and inclusion tools that can make it easy for organizations to promote, maintain, and manage the strategies necessary for their commitment to diversity. So, what kind of options do you have available?
Diverse Talent Acquisition
Diversity recruiting software will automate the normally manual process of selecting candidates from a talent pool. The thought behind it is that blind selection tends to be more diverse and inclusive than manual selection. Diversity recruiting software will typically provide HR staff with the tools needed to source diverse candidates, screen resumes, create a shortlist, interview the applicants, and collaborate with applicable hiring managers. There are also specific tools that can give you access to more diverse talent – for instance, by creating job ads that are specifically targeted to underrepresented groups, analyzing text to eliminate bias in ads, standardizing the interview process to make it more accessible to marginalized groups. and reducing bias in background checks. If you want to make the process of diversity hiring as streamlined as possible, we strongly recommend using at least one of these tools.
Diversity Analytics
Most diversity and inclusion analytics tools will translate quantifiable data into intuitive dashboards, focusing on presentation of KPIs such as:
Representation;
Analysis of pay equity;
Organization diversity; and
Analysis of talent sourcing and selection procedures
Development and Advancement of Diversity Tools
There are various tools that facilitate technology-enabled approaches to learning about diversity and inclusion. For instance, take "Allie." Allie is a chatbot that offers Slack-based micro-training in order to draw attention to and stop bias in employee workflows. Another Slack-based product is being developed by Crescendo; it will recommend learning content related to unconscious bias.
Use Inclusive Language
It's essential to use inclusive language in order to make all employees of a diverse team feel valued and accepted. We recommend creating a company-wide inclusive language guide – but don't just issue the guide to employees and leave it at that. Instead, use the guide to foster open communication regarding the positive and negative connotation behind the examples listed therein.
Examples of Inclusive vs. Non-Inclusive Language
If you come from a place of privilege, it's understandable that you might not recognize non-inclusive language. Well, we're here to educate you! Here are a few examples of non-inclusive language and their welcoming counterparts. It may take some time to get used to making the switch, but making your employees feel comfortable and welcomed will be worth it.
Businessman vs. businessperson
Grandfathered in vs. legacy status
Sanity check vs. confidence check
He/Him, She/Her vs. They/Them
Have a Discussion With Your Diverse Employees
It's important to take what your employees actually want into account when developing diversity initiatives, rather than just assuming what's best for them. Even if you, yourself, are a member of an underrepresented group, you can still gain perspective by talking to members of other groups.
Take, for instance, the Boston Consulting Group (BCG). The BCG interviewed 16,500 employees worldwide to find out what employees wanted in regards to diversity initiatives. They found that female employees wanted to have more visible role models within the workplace, in addition to longer parental leave and flexible work programs. Employees of color placed a high value on diverse recruitment strategies, such as blind resume screening and inclusive interview panels. LGBTQIA+ employees wanted their companies to partner with other organizations that were LGBTQIA+ focused, thus creating a community.
Use Alternative Complaint Systems
About half of harassment and discrimination complaints end up leading to retaliation in some form. Workers who bring their harassment to light are more likely to experience detrimental effects on their mental health, physical health, and career. In order to protect these employees, it is essential to use alternatives to typical grievance systems. For instance, Employee Assistance Plans (EAPS) are an important employee resource, often offering free, confidential, phone-based advice to employees. This is not a replacement for a grievance scheme, as EAPs typically don't intervene within the organization. Yet, it is a great way to provide support to employees during the complaint process.
Another alternative is the ombuds office, which is often used in U.S. universities and in Scandinavia. It isn't commonly used in the workplace but, in our opinion, it should be. Traditionally, ombud is an independent party that isn't part of the chain of command. The ombud's role is to listen to the victim's side and provide them with private advice. The ombuds may advise the employee on how to deal with the matter – and, unlike with an EAPs, they may also directly address the harasser and talk with HR about modifying working conditions.
Welcome a Multilingual Team
If you truly want to create an inclusive environment for a diverse team, it's essential to take all language barriers and preferences into account. Global companies work with this all the time – for instance, they may create different teams; each team works in a different country, and each member of one team speaks the same language. But what if all of the teams are participating in a virtual event? What language should the CEO speak in? These companies know that they must offer translation services in order to include everybody in such events. Now, take this example, and scale it down some. Even in a smaller workplace, it's important for everyday employees to feel comfortable and secure communicating in their preferred language – and this is especially important during meetings, common areas, and company-sponsored events.
A long-term approach to providing inclusion for a multilingual workforce would be to provide educational opportunities for employees to learn other languages. Even though this would be a significant investment of time, it will yield phenomenal results. In the meantime, though, be sure to provide translation services in your employee's preferred languages.
It's Time to Build a Welcoming Workplace Environment
While these actionable steps will go a long way towards making your workplace more inclusive for diverse members, there will always be room for improvement. We recommend taking part in diversity development training on a regular basis (at least once per year), so you can stay informed about innovative diversity initiatives and new software that can streamline those actions.