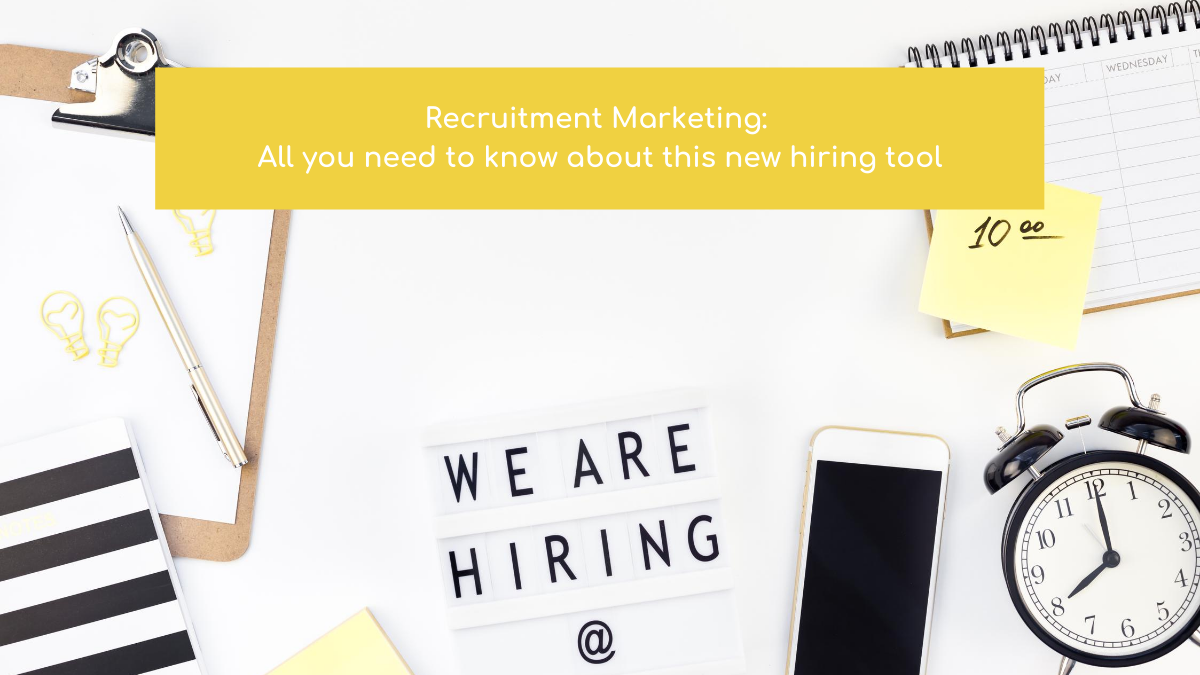 While the Recruitment Marketing concept becomes more and more popular, that is still quite a new initiative for many companies and recruiters.
Traditional marketing appeared when organizations realized: it is not enough to produce a product and try to sell it. But you need to understand the customer needs, deliver the right message, build a brand, and win in a competitive war.
Recruitment marketing arose with similar reasons. Its objectives are to build awareness and employer brand, promote jobs and their value, attract and engage the right candidates.
Every salesperson knows how vital marketing support is for sales success. Thus your hiring will be a lot more efficient and successful with well-implemented recruitment marketing.
To understand the recruitment marketing better, I've tried to break down:
The essential subjects and objects of traditional and recruitment marketing
Main activities and to-dos
The role of recruitment marketing software
| | | | |
| --- | --- | --- | --- |
| Traditional Marketing | Recruitment Marketing | What to do | Support from recruitment software |
| Customer | Employee | Identify employee personas and target audiences | Candidate profiles |
| Lead or Prospect | Candidate | Build awareness and attract candidates with right profiles | Candidate sourcing tools |
| Product or Service | The company as an Employer or a particular job | Describe and communicate the benefits for the target audiences | Managing and publishing job openings |
| Selling | Hiring | Nurture leads and move them along recruitment steps with outstanding candidate experience | Applicant Tracking system |
| Company Brand | Employer Brand | Promote employer brand, increase awareness and deliver the message | Tools and tips for brand promotion, career portal |
| Marketeer | Recruitment Marketeer | Promoting the company as an employer and attract top talents | An entire set of recruitment marketing tools |
| Lead database | Talent pools | Fill with potential candidates for future use | Storage for creating and managing multiple talent pools for different audiences |
| Company web site | Career Site | Design it to promote employer brand and jobs online, collect candidates and communicate with them | Ability to design site structure, pages, feed the job listings and generate application forms |
| Product Page | Job Page | Design in the way to attract potential candidates and convert them into applicants | Templates and tools for designing high-converting job pages |
| Social Media Marketing | Social Media Recruitment Marketing | Promote employer brand and jobs in social media | Integrating and publishing to the most popular social media |
| Customer Testimonials | Employee Interviews | Use as trustful social proof for the candidates | Publishing employee interviews on career site |
| Customer Email Marketing | Candidate Email Marketing | Engage the audience and promote your jobs | Automated email marketing, templates, and tracking |
| SEO (Search Engine Optimization) | SEO for Jobs | Make your job pages optimized for search engines and increase visitors | Tools and techniques to optimize your job pages for Google jobs and other search engines |
| Content Marketing | Content Marketing for Talent Acquisition | Publish articles, videos, and other content to promote your employer brand | Tools for content authoring and promotion |
With an older history, traditional marketing has gathered a lot of knowledge, practices and tips. The goal of recruitment marketing is to adopt them for their own needs. At Talenteria we do the same for recruitment marketing software – adopt the best practices of marketing software for recruitment and talent acquisition.