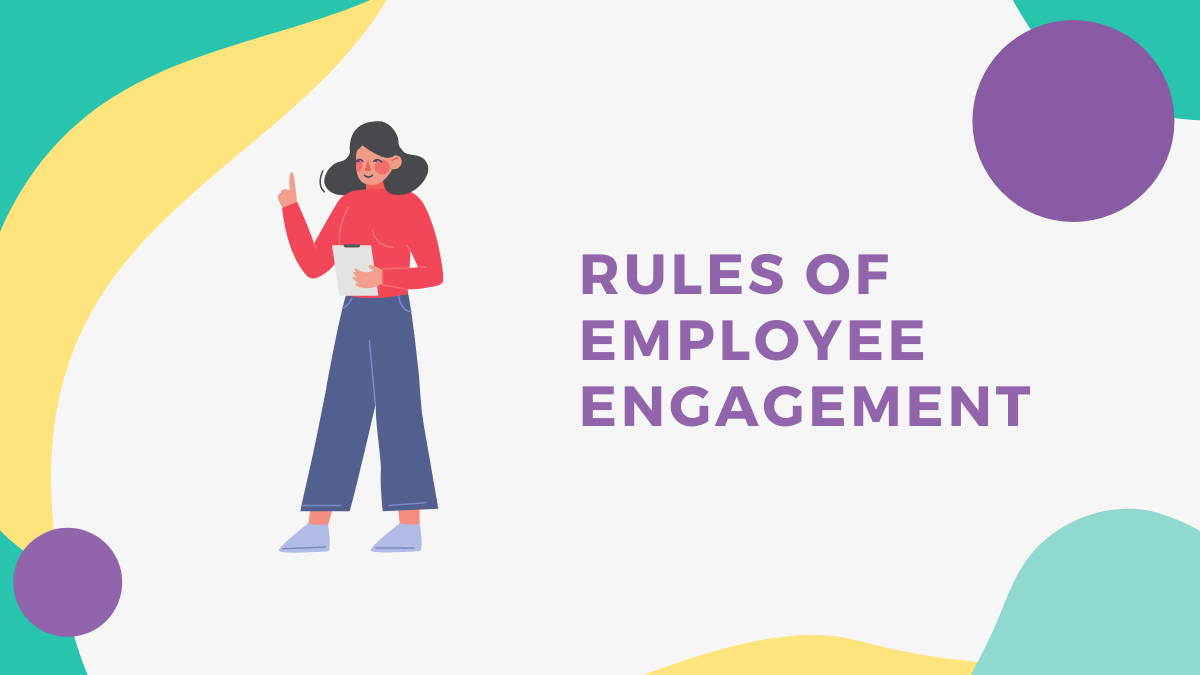 Employee engagement should be a primary aim for your organization, as the foundation for any organization's success is engaged employees executing quality work. According to research, organizations with engaged employees are more efficient and successful, have reduced employee turnover rates, and hire and keep the best talent in the industry.
Employees who are engaged are invested in their jobs, care about their coworkers' success, and are dedicated to their company's mission. Employees engaged in their work are more motivated to work hard and put up the extra effort, boosting efficiency and growth.
To ensure that it is taken seriously, Employee engagement should be integrated into your organization's procedures, and management should practice it at all levels. Let's take a look at some of the most important rules of engagement.
1. Establish a relationship of trust with your employees
In the workplace, trust is crucial. According to a study, the majority of engaged employees say they trust their bosses. Furthermore, increased levels of trust are associated with higher levels of morale and production.
Being honest, transparent, and open with your staff will help you create trust. To improve workplace trust, consider implementing one or more of the following:
Allow employees to ask executives questions in open forums
Increase the number of people involved in decision-making. For example, poll staff or actively request input from them
Explain clearly the reasons behind the company's key decisions
Recognize errors and failures openly
2. Acknowledge your employees
Keep in mind that your employees aren't slaves to the company working nonstop. They become exhausted and frustrated, though they may not express it publicly. That isn't a pressing problem; after all, any work may be frustrating, but what is of greater concern is when your staff feels neglected.
Employees who believe they are undervalued are disengaged and unhappy at work. To make things right and further encourage your employees, you should acknowledge their accomplishments and efforts. Try one or more of the following gestures at your company to express thanks to your employees:
After a job well done, providing favorable feedback
Organizing a festive lunch or supper for individuals or groups
Thank you letters that are customized
Bringing food or goodies to the office, such as doughnuts
Introducing a monthly award, such as Employee of the Month
3. Invest in channeling their energies
Without action, even the most brilliant ideas are meaningless. When you assist your employees in focusing their energy in the correct direction and setting quantifiable goals for achievement, you become interested and invested in them. They will get disengaged from you if you are disconnected from their work, ambitions, and passions. As a result, they will not perform to your expectations, and they may be plotting their leave.
When energies are directed with clarity, enthusiasm, and purpose, you raise the bar for personal growth and involvement. When this is achieved, employees have better certainty, are more committed, and are happier.
4. Establish training and resources for employees growth
Employers can boost their employees' motivation and hope by planning and implementing training programs and employee engagement courses. Employees who contribute their skills and expertise are the company's core productive resource. They have the right to gain extensive information and skills in conjunction with their performance, which can work wonders for them and the firm.
Training and development that is relevant and adequate fosters skills, motivates employees and makes them feel valued. As a result, it's worthwhile to spend in employee training and coaching.
Companies can demonstrate their dedication to their employees by connecting between where they are now and where they want to go and how training can help them get there. This could include paying for employees' conference attendance, reimbursing for relevant courses and certifications, or even purchasing books and educational materials for your company.
Providing these opportunities to your employees provides the following advantages, in addition to enhancing engagement:
Employees' productivity potential rises as they gain new abilities
The company's knowledge base grows as more employees become educated
Employees who learn together are more likely to enhance their working relationships and feel more committed to their organization
5. Provide room for flexibility and innovation
Usually, employees must obey strict standards and a standard of operation in the workplace, leaving no room for creativity or innovation. This is a big contributor to employee attrition. Therefore companies can retain staff and keep them interested by creating a relaxed atmosphere, encouraging remote work, establishing non-traditional timetables, encouraging them to demonstrate their creativity in their job, and valuing their name.
These days, many organizations are establishing a link between performance, innovation, and personal interactions, resulting in increased employees effectiveness and productivity.
6. Emphasize the importance of office space
We often realize how many buildings employed by the workforce daily have not changed instruments for doing business. Still, those changes are a key influence in retention and employee involvement in the design, infrastructure, and digital communications. The modern office must be extensively networked, with space to share that eliminates boundaries while increasing productivity.
Minimalistic upgrades can enhance communication systems, improve decision-making and create a positive environment.
7. Allow employees to have more independence
Almost every job is transforming due to technological advancements, and businesses are seeking methods to do more with less. However, studies demonstrate that when businesses provide their operational regions with the resources they need, their employees have greater freedom and decision-making authority, and the firm reaps the benefits.
The aim of cutting personnel costs to keep the budget in check can backfire if individuals become less engaged and productive. Competence, flexibility, purpose, and need are all motivators for employees. Employees prefer work that allows them to leave a lasting impression.
Second, employees who achieve the best levels of customer satisfaction and sales are not those who have received higher grades in tests, but rather those who take pride in their work, are fun-loving, and have a passion and commitment, even if it is serving clients in a cafeteria. Allowing employees time to rest and think is the most crucial aspect of all.
8. Explain the big picture to employees
Usually, only senior management of a company knows what the organization's mission is, what they are trying to achieve or solve, the future plans and how it affects the lives of stakeholders, customers, staff, and shareholders. This information is not known or revealed to most other employees. Therefore, another rule of engagement is that management must discuss what the company does and how it affects the lives of people.
9. Simplify processes
Studies have discovered that managers spend over half the day on meetings and admin tasks, leaving hardly any time to boost their staff. Employees become disengaged and unmotivated in such an environment.
Simplicity minimizes complications and allows businesses to become more efficient and streamlined. Employees may feel more directly related to their functional area due to the simplification process, and their efficiency and production will grow, as well as their satisfaction.
10. Provide performance-based feedback
Organizations should offer consistent feedback to employees by educating them on the impact of their operations and decisions using various feedback mechanisms. The purpose of the feedback should help them comprehend and experience the consequences of their performance and decisions. One of the most fundamental parts of employee engagement is ensuring that the organization values the employee's contribution.
Projects often take a long time to create, design, and execute, particularly when it comes to strategy and process improvement. Thus, by receiving regular feedback and remarks, employees can learn about their outcomes, improving employee engagement.
11. Celebrate milestones
As another rule of engagement, companies should celebrate with employees whenever they reach a milestone. This is especially critical during long and tough projects, which involve new products, services, or even business transformation. By defining and celebrating milestones, companies offer employees a sense of accomplishment.
12. Reward employees with benefits
Employers should take the time to rewarded their employees with incentives such as:
Providing employees with additional vacation time
Letting staff work remotely
Ensure that salaries are fair and lucrative
Organizing trips for the entire company
Prolonged parental leave
Putting in place a wellness program to attracts employees to join gyms
Set Yourself Up for Success With Talenteria
Employee engagement is vital to your organization's growth. An engaged staff is more inclined to pitch in and make things happen when you need extra help to meet deadlines or operate with finite resources.
Employee engagement is crucial since it has an impact on every area of your company. Employees that are engaged are proud of their work and regard company success as a personal accomplishment. Employees who are disengaged are often disengaged or apathetic towards the company's performance and contribute little.
By hiring the best-fit employees, it will be easier to keep them engaged. With Talenteria's next-gen career site builder and recruitment marketing platform, you can ensure that you find and hire top talent. Reach out for a demo on the premier recruitment solution.