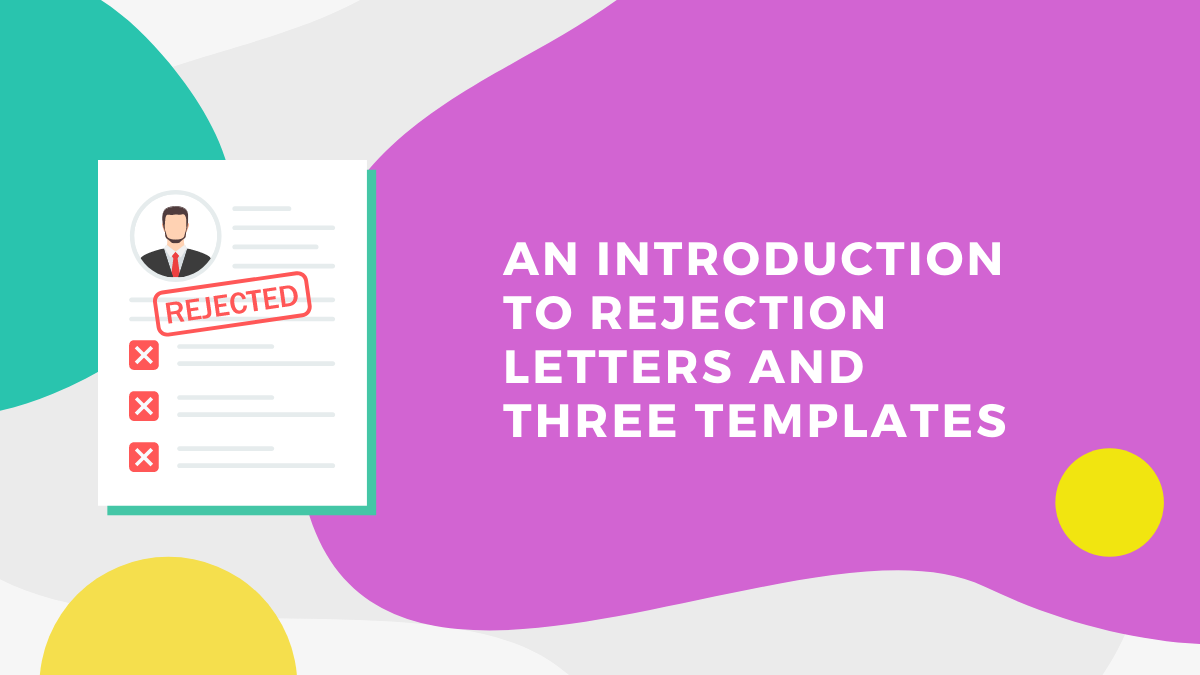 An Introduction to Rejection Letters and Three Templates
The job market has become a cutthroat feeding frenzy, with millions of people across the world applying every day to jobs they might not even hear back from. Even when they do, it is usually the dreaded rejection letter.
This article will take you step-by-step through what it takes to write a proper job rejection letter. We all hope you don't have to write too many of them in your career, but the way things are, it is best to have your fingers memorize the patterns.
What Is a Rejection Letter?
A rejection letter is a piece of correspondence, usually sent via email these days, letting candidates know that they either did not advance to the next round of the interviews or that you are going forward with someone else.
This lets the candidate know that they should spend their energies on applying somewhere else. Otherwise, they will keep hoping that their application is still processing or that it just got lost in the shuffle. It is a very disheartening feeling, and a simple job rejection letter helps avoid that.
How to Use Our Candidate Rejection Letter Samples
It is very difficult indeed to write a good rejection letter. How do you tell someone that they did not cut it? What is the best way? Should you show sympathy? Should it be cut and dry? What should be the tone of the message you are trying to convey?
Consider the fact that the candidate spends hours in preparation, and you are crushing their hopes and dreams. Do you still think it's easy? It really isn't. However, to make it a tad easier for you, we have compiled a few rejection letter templates below for you to customize and use when necessary.
This way, you save time and brain cells from having to carefully craft every word and form the letter from scratch. Hopefully, you won't need to use them often, but it is best to keep them handy nonetheless.
Rejection Letter Template
There are very many ways of doing this, and we will try to provide as many examples as we possibly can.
Short and Sweet
The short and sweet rejection letter does just what it says. It gets the point across in a few short lines and wishes the candidate all the best in their future endeavors. It is effective when you don't have much to say, and it is especially useful immediately after receiving an application.
It goes as follows:
Dear [Candidate's name],
Thank you so much for your application. While we appreciate your interest in our company, we have decided to move forward with another candidate at this time. We hope that you reapply to us in the future and have the very best of luck in all your endeavors. Have a wonderful day!
Best Wishes,
[Your name]
[Your designation]
The Traditional Rejection Letter
This template is one that is classically used. It covers all bases and goes a little bit more in-depth, getting a little bit more personal. You use this format when eliminating candidates during or after the interview process.
Take a look:
Dear [Candidate's Name],
Thank you for taking the time to meet with our team on [Date] about filling the role of [Job description name] at [Company name]. It was a pleasure to meet you in person and learn more about your skills and accomplishments.
Unfortunately, our team did not select you for further consideration.
Please note that competition for jobs at [Company name] is always high, and we often have to make very hard choices between numerous candidates who are all highly talented and very eligible. However, now that we have had a chance to interact and get to know you, we will keep your resume at hand and in consideration for any future vacancies that fit your abilities and skills.
If you have any questions regarding feedback about your application or interview, feel free to ask. I shall be happy to answer them to the best of my ability.
Thanks again for all your hard work and interest in [Company name]. Best of luck on the job search!
Regards,
[Your name]
[Your Designation]
Rejection With Feedback
The main question people have on their minds when they receive a rejection letter is why? Why were they rejected? What did they do wrong? How did they not fit what the company had in mind?
These are all reasonable questions, and we ourselves may have asked these at some point in our lives. So, it is best to discuss why someone did not make the cut in the rejection letter itself. This can be very tricky, so use the template we've prepared for you below:
Dear [Candidate's Name],
I want to thank you for your interest in the [Name of Designation] position at [Name of Company]. Unfortunately, after reviewing your file, we have decided not to go forward with you at this time.
The reason is that while your educational qualifications are excellent and your character is sound, we have chosen to go with someone who has real-world experience in the field. Do not be disheartened. We will keep your file on hand, and after you gain some experience yourself, whether it be through volunteering or actual work elsewhere, we hope you will consider applying to [Company Name] again.
On behalf of [Company Name], allow me to thank you for your time and effort, and I wish you the very best of luck in all your pursuits in the future. If you have questions, I encourage you to contact me at [enter contact information of your choice].
Sincerely,
[Your Name]
[Your Designation]
Writing Rejection Letters With Talenteria - And More!
The most important thing you need to communicate to your candidates is that they should, under no circumstance, feel inadequate. You need to tell them that they got eliminated not because they are not good enough but because they are not the right fit for the company at present. As the person writing the rejection letter, it is your responsibility not to depress them more than they already will be.
For more HR-related questions and solutions, feel free to contact us anytime. Talenteria offers a comprehensive suite of recruitment marketing tools for creating the ideal candidate journey.