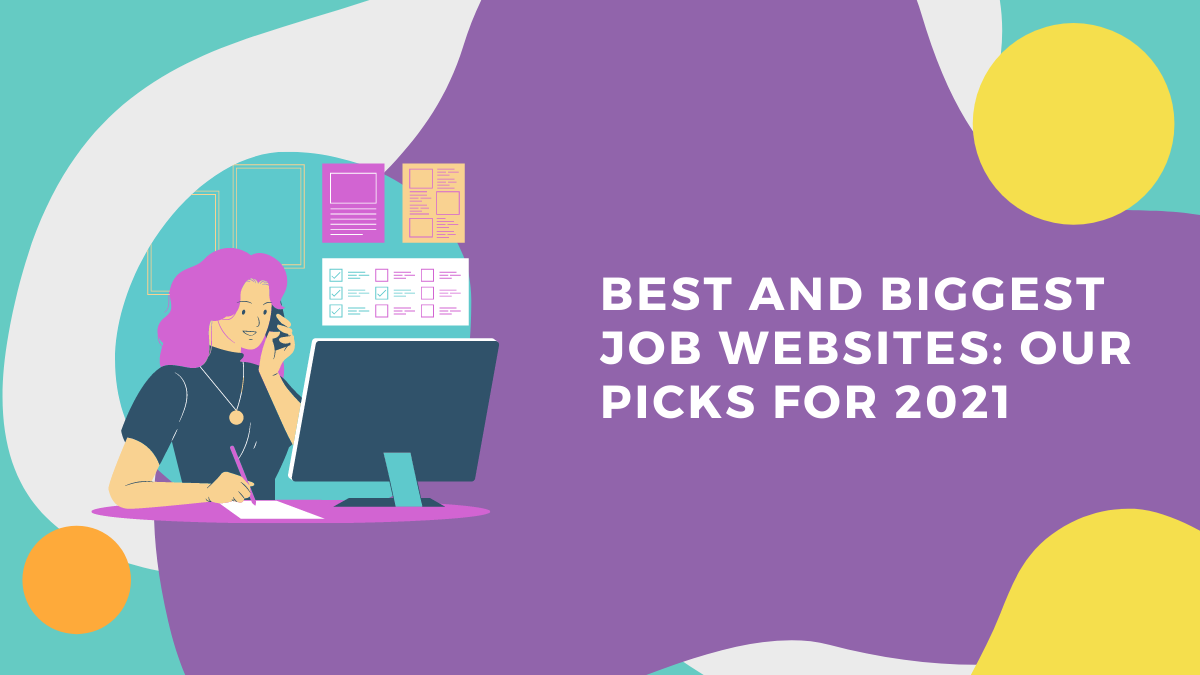 Before the age of the internet, job boards were physical wooden notice boards located in central public areas such as libraries, outside the town hall, or parks. Employers would advertise their jobs by pinning pieces of paper with job and contact details on these notice boards.
Anyone interested in the job would make a note of the contact details or take the entire job post with them. Of course, this was not the most feasible and efficient way of job advertising for many clear reasons.
By the 1990s, the first online job board prototype was invented, and the hiring process was revolutionized. Since then, online job boards have transformed into the main hunting ground for both job seekers and recruiters, making them an integral part of the hiring process.
There are currently hundreds of online job boards out there, and it is a modern-day dilemma that many companies and recruiters face when choosing the best job boards to advertise your job postings. This article will tell you everything you need to know about job boards to help you pick the right job board for your hiring needs, including our list of top job boards on the internet right now!
What Are Job Websites?
Job websites, also known as job boards, are online websites that facilitate the advertising of jobs by recruitment agencies and companies, connecting them with potential candidates.
The biggest job boards are usually ones that include job postings from all industries. However, bigger does not always mean better. Niche job boards have also emerged, where jobs collated are from specific industries such as legal, healthcare, engineering, tech, and teaching. There are also cross-sector category job boards such as green jobs, seasonal jobs, graduate jobs, and charity jobs.
Niche job boards have recently seen a rise in popularity, as figures have shown them to be much more efficient than general job boards due to their targeted nature. Job seekers are able to find the jobs they want and apply more quickly using niche job boards. Employers will also have a more focused talent pool.
Job websites may also refer to job search engines. These are different from job boards, as jobs are usually not directly posted or applied to on job search engine websites. They operate similarly to any other search engine website such as Google but limit their aim to finding and indexing job posts from all over the internet.
How Do Job Boards Work?
Job seekers can create job profiles and upload resumes. They can also browse and filter job postings on job boards by their preferences, view job descriptions matching their search, and apply directly through the website. They may choose to upload a cover letter as a separate file or write one in the text box provided.
Recruiters and employers can create company profiles and manage responses to their posts, and many job boards also provide various other features to simplify the hiring process. Some job boards even allow recruiters and employers to search through job seeker profiles and invite suitable job seekers to apply to their job postings. Further profile search capabilities make job boards a great source for recruitment teams to build talent pipelines.
How Much Do Job Boards Cost?
The cost of posting to top job boards can vary depending on the job board, frequency of postings, and if premium features have been purchased. Some job boards will charge based on the popularity of job posting and will rack up the bill for every view, click, or application received.
Some will charge a flat rate fee per post, and some will charge per month where users can make as many job postings as they want during that month. Premium features also vary by website and in price. Common examples of premium features are extended period of length postings stay online and sponsored or pinned job postings that increase the visibility of the post.
More information on pricing and premium features for individual sites will be discussed in the next section.
Best Websites For Jobs of 2021
Here is a list of the best job websites online for 2021:
1. Indeed
Indeed is arguably the most famous and one of the biggest job boards on the web, featuring jobs located all over the world and attracting job seekers globally. There are over 250 million monthly users, and it is estimated that ten new jobs are posted every second. This substantial amount of web traffic has its advantages and disadvantages. Although, it is free to use for both job seekers and job posters. However, sponsored jobs charge between $0.10 to $5 per click.
Jobs can be posted directly onto the website by recruiters or companies. Still, a lot of the openings are amassed by algorithms that canvas the internet for listings on other job boards, career pages, and classifieds.
Jobs can be searched by location and job title by users, with a single-click apply option for registered users and email alert subscriptions so that job seekers will get newly posted jobs sent to their inbox that match their set preferences. Job searches and particular jobs can also be saved and viewed at a more convenient time.
Furthermore, Indeed has also partnered up with Glass Door and created job advertising space on the Glass Door website. Glass Door was created as a website that provided transparency for average salary figures and honest company reviews from former, current, and prospective employees. With the new job boards feature, the website has combined company insights with job postings making job hunting much easier for job seekers.
LinkedIn hardly needs much of an introduction. It is the world's largest professional networking platform boasting a not so humble figure of over 740 million registered users worldwide and spanning all industries.
It is famed for being a database for digital resumes and used as a tool to connect with individuals in your professional circles or expanding that circle. Many recruiters and talent scouts also scour LinkedIn for promising talent and connect with them directly.
They also feature a database of open opportunities, where LinkedIn users can apply using their profiles as digital resumes. Job posting on LinkedIn is free and is aimed at small or medium-sized companies that hire sporadically and offer basic functions and tools. There are options for recruiters who need to hire for several positions quickly, and these products have a lot more advanced features included. You may request a free demo to try for a limited time, then choose to pay for the full product to continue receiving the benefits.
3. The Ladders
Known as the home of $100k+ jobs, The Ladders is a well-established top job website that connects those with coveted skill sets who are looking for high-salaried careers and companies in need to fill such positions. This is an elite white-collar club.
The website also serves as a career newsroom and professional networking platform. The job boards are often filled with various positions spanning dozens of sectors such as finance, software, data science, and engineering. They also have some big named clientele with postings regularly seen from heavy hitters such as Google, Morgan Stanley, and Cigna.
To add even further exclusivity, job seekers have the option of standard or premium accounts. Without a premium account, they are required to pay to apply for certain postings. This can reduce the number of spam applications and unqualified candidates.
All postings are screened beforehand. There are currently over 25 000 verified active recruiters use the site to search for top talent. Basic recruiter accounts allow p to 20 free job postings each month. Each job posted must have a minimum salary of $80 000.
Considered a pioneer in digital recruiting, Monster was founded in 1994 to bring talent and employers together. It is estimated that 7900 job search queries and 29 resumes are uploaded every minute on Monster. Their user traffic is a close contender to that of Indeed.
Jobs found on Monster are varied, catering to job seekers of any skill level and contractual preference. However, the filter options are more limited compared to other major job boards such as Indeed, making it a little more difficult to find specific jobs.
Other functionalities for the job seeker are similar to other websites, such as quick apply options, saved searches, and alerts. Aside from that, Monster also provides salary comparison tools and premium services to enhance resumes, LinkedIn profiles cover letters.
They offer various payment plans for job posters. Prices start at $279 for one post per month, but they also offer customizable posting solutions to suit company needs. Alternatively, they can also opt for a pay-per-click job posting which could work out cheaper.
CareerBuilder is a U.S based top job board that established itself in 1995, making it one of the oldest and most reputable job boards around. While it started off as a purely American standard job board, it has since evolved into an international network for end-to-end human capital solutions.
Their services offer more than just a place to post and find jobs. They also function as a recruitment platform with tailored marketing and screening tools, helping companies source and manage applications. It is a popular choice for small to mid-level businesses, companies, and enterprises.
There are different packages available on a per-month or annual basis, with a varying number of posts included. The price per post decreases for higher-priced packages, which include more posts per month. The cheapest package costs $219 for one post per month.
Scouted breaks away from focusing on traditional hiring metrics such as skills and experience. Instead, its ethos emphasizes more value on personal attributes and potential. This holistic approach to recruitment has been shown to increase retention rates.
The website uniquely lets candidates insert virtual interview questions on their profiles, allowing employers and recruiters to see the person behind the resume. This is a popular choice for graduates who lack solid work experience but are looking for their first entry-level opportunity after graduation.
Scouted also uses propriety matchmaking A.I. machine learning algorithms based on candidate profiles and virtual interview answers to match suitable candidates with companies. They are then invited to first-round interviews. The matching algorithm improves the longer the service is used.
Each price plan offers a different level of filtering service and number of job slots per month, starting at $499 per month. They also offer personalized advice from their expert team and analytics for insights on metrics such as response time, match quality, diversity, and acceptance rate.
For over a decade, LinkedUp has been using patented technology to comb the web for freshly posted job listings and adding them to their website within the same hour of the original post. They proudly tout 106 million monthly unique visitors and over 300 curated partner sites. This creates a consistently updated database, allowing users to be the first to see and apply for the latest posts.
They offer pay-per-click campaigns at low prices and access to valuable analytics to help optimize recruitment strategies. Exactly how low the prices are is not stated on the website, as rates are available by quote only. But after setting a monthly budget, your job listings will have premium placement for the duration of your campaign.
Job listings will also be distributed to their nationwide partner network and be made available in the LinkedUp mobile app.
Formerly known as Snagajob, this popular niche job search platform focuses primarily on hourly paid jobs, temporary and shift work. Employers are provided with tools to post hourly jobs, track applicants, manage documentation, schedule virtual interviews, approve candidates for shifts, perform background checks, and much more. This is a perfect one-stop-shop solution for those looking to hire for hospitality, retail, and warehouses.
There are around 6 million hourly workers that browse the site monthly, ready to pick up shifts at a moment's notice. There is a one-click apply feature and an option to add pre-screening questions that can help you weed out unqualified candidates.
Payment options start at just $89 for one post per month, with further payment options available by quote. They also only charge by post-performance, meaning employers only pay per application and not per click. This could potentially be a lot more cost-effective, as 94% of job seekers who window-shop during their job hunt never actually apply for the jobs they view.
Job.com has reinvented the way employers approach hiring and aims to streamline staffing and recruitment by creating an ecosystem with the use of blockchain technology. It is an advocacy-based reward and verification process made famous by cryptocurrency Bitcoin.
All employers can provide ratings, references, and meritocracy to resumes and candidate profiles. These will be recorded in a public ledger that is secured by high-end encryption. This provides trust and context around a candidate. Therefore, candidates will have verifiable backing from other trusted users within the ecosystem, vouching for the credibility of their skills and competencies, subsequently reducing the possibility of hiring the wrong candidate.
Their platform also utilizes data science and machine learning in their search and candidate suitability matching to improve upon itself, creating momentum for both candidates and employers. They are so confident in their advanced algorithms that they even offer a 5% signing reward to everyone that finds a job through their website and stays in that position for more than 90 days.
At the moment, job.com is only available for U.S users, but they are planning on expanding to the U.K., some European countries, and Asia. Prices are available by quote only.
WeWorkRemotely specializes in listing remote job opportunities. This is a great resource for companies and employers looking to hire remote teams or individuals with specific skill sets, such as software developers.
Since starting up in 2013, WeWorkRemotely has become one of the biggest job websites in the world. Positions posted in their job boards see an impressive 90% fill rate, with a fast time to hire too.
Remote working has grown to be a prevalent and essential mode of work in recent times, seeing benefits for both employer and employee in some cases. Thus, the website is forecasted to grow even more so popularity. WeWorkRemotely is an invaluable supply of global remote candidates, and using their expertise and vast connections can potentially enhance your talent pipeline.
They have an easy-to-use interface and first-rate customer service to assist you with one-to-one support, including posting on your behalf. They also have various customizable bundle packages and flexible pricing for those looking to make multiple job posts for efficient hiring. Payment upfront can see significant discounts too. The base price is $299 per month for a single listing. Premium upgrades range from $59 to $149 on top of the base price. Features include highlighting your ad, main page pin-up for seven days, social media sharing, visibility on Google Jobs Network, and email placements.
Choosing the right job boards is an integral component of the recruitment process. Many things need to be considered when figuring out which job board is right for your recruitment objectives. Making the best choice can expedite the hiring process entirely, improve the quality of hire and reduce cost per hire.
Want to boost your hiring strategy? Our recruitment marketing and career portal platform can help any recruiting manager develop an incredible candidate experience, increase applications from top talent, and track key metrics.