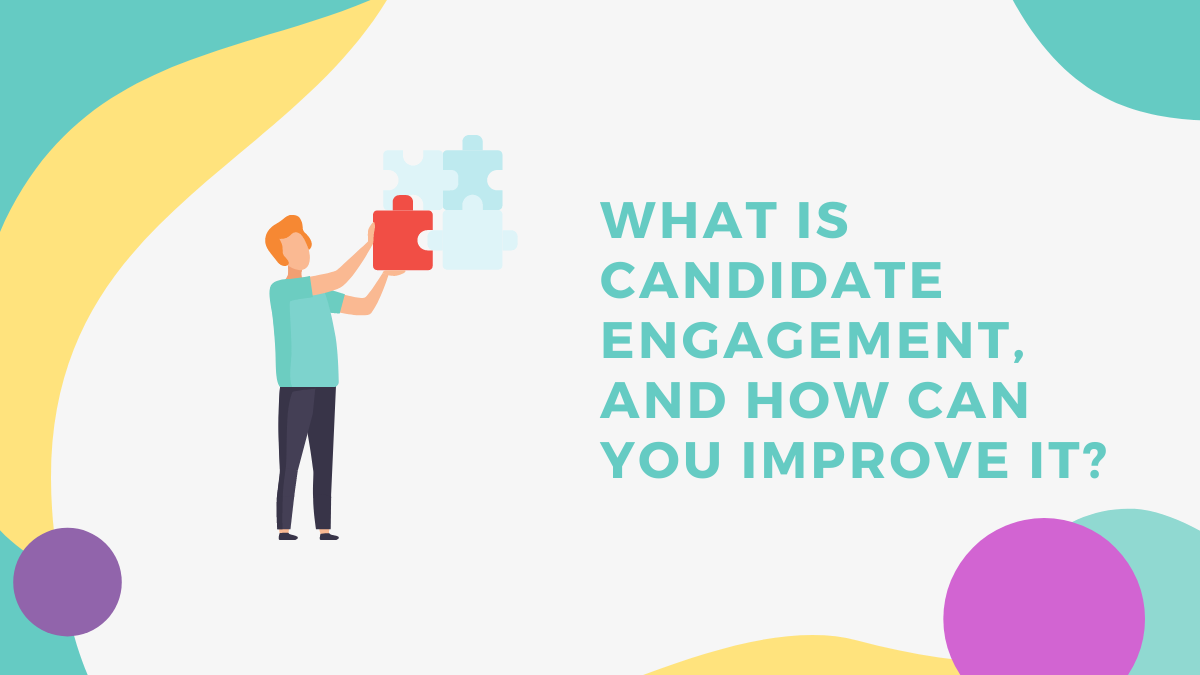 What Is Candidate Engagement?
Candidate engagement is, quite simply, the interaction a company has with a candidate from start to finish of the recruitment process. Some may argue that the engagement begins once communication with the candidate is initiated. However, it is much more comprehensive to consider the starting point to be when a candidate becomes aware of a company.
Candidate engagement at its core is integral for a company's brand. If candidate engagement is lacking, this will cause a negative candidate experience. According to a recent survey, around 60% of job seekers felt they were treated poorly during a recruitment process. Out of those, 35% say they would share their negative experience online, and 22% would advise others not to apply to that company. This detrimental impact on a company's reputation can influence top-tier talent to avoid applying to your future job openings.
Who Is Involved in Candidate Engagement?
The people involved in candidate engagement are internal staff and, of course, the candidates themselves.
Internal Staff
The internal staff contains the members of a company's workforce that understand the candidate journey and has knowledge of marketing. Marketing knowledge is integral because candidate engagement is essentially a marketing function. Parallels to customer engagement can be drawn to candidate engagement. The company brand and image need to be sold to attract high-quality candidates. This is similar to how products and services need to be effectively marketed to sell to customers.
These staff members will be charged with overseeing candidate engagement. Part of their responsibilities will include sending out correspondence to candidates at various times throughout the recruitment process. They may also monitor candidate engagement by tracking email open rates, job views, job applications, and other candidate response rates.
Candidates
Obviously, we need candidates to have candidate engagement. These candidates will be categorized according to career interests and suitability. Sorting candidates out in this way will allow for a targeted candidate engagement strategy. An example would be that only those interested in administration roles would receive emails containing new openings in admin.
What Does the Candidate Engagement Process Look Like?
The candidate engagement process can be outlined as follows:
Goals – setting firm goals is the basis for any good plan. Staffing goals could include:
Increase placements by 30% using current data from our ATS (Application Tracking System).
Increase redeployment rates by 25%.
Engage with all newly source candidates.
Now that we know what our goals are, we can put together a strategy to achieve these goals.
Strategy – the candidate engagement strategy for these goals may be:
Implement a recruitment marketing tool to re-engage with candidates. Send out useful content that matches the candidate's career interests and the latest suitable job listings at regular intervals. Monitoring candidate engagement after these efforts will allow the identification of both engaged and non-engaged candidates. Passive candidates may be re-engaged in the process. It is then important to continue nurturing the relationships of engaged candidates who are responsive to the distributed content.
When contractors are coming to the end of their current assignment, issue an automated text or email a week before the assignment end date. This communication will also serve to alert an assigned recruiter to reach out to the contractor and allocate them towards a new matching assignment.
All new candidates will be sent an automated welcome email from the assigned recruiter. Correspondence will continue through weekly or monthly newsletters containing relevant job listings and other career-related content.
Simple Steps for Improving Your Candidate Engagement
On average, the best candidates only stay on the job market for ten days. The average time to hire is approximately 24 days. This clearly proves that not only is the job market a candidate's market but that keeping candidates engaged throughout the recruitment process is essential.
So, companies should always be looking into ways to improve their candidate engagement. Here are some steps to do just that:
1. Create an Exciting Company Brand
Engagement truly starts with company brand awareness. The candidate must first know that your company exists. Then how candidates perceive your company will be a major influencing factor on them deciding to apply. The easiest way to build awareness and engage potential candidates is through social media platforms and the official company website.
Update regularly about company news and events on all company social media accounts.
Incorporate a recruitment page on the company website that details company culture and what the company offers its employees besides the usual salary and holidays. List the perks and career progression support available at the company.
Include written or video testimonials by current employees.
2. Communicate Consistently Throughout the Recruitment Process
A key cause of candidate dissatisfaction comes from a lack of communication from a company. Not keeping candidates informed during various stages makes candidates feel frustrated and undervalued.
Always send confirmation emails when applications are received and thank them for applying.
Send an email to inform candidates who are unsuccessful that their application will not progress any further but thank them again for applying.
Consider installing a chatbot feature on the company website to answer common questions candidates may have. Any question answered unsatisfactorily should be directed to a human representative.
Automated scheduling using software can streamline the interview appointment process. Candidates are quickly and accurately alerted about interview bookings. They may also confirm or change to a preferred time slot.
Provide feedback wherever possible. Same-day feedback after an interview has been shown to increase the likelihood of unsuccessful candidates to re-apply. Automated feedback using ATS software has also proven to enhance the candidate experience compared to getting no feedback at all.
3. Ask for Candidate Feedback
Collecting feedback shows the candidate that their opinions matter. The feedback a company can receive from candidates will be useful in optimizing candidate engagement and candidate experience strategies. Devise a short survey for candidates to fill in.
Candidate engagement can be difficult to manage for companies with high volumes of candidates. But with automated software, communication with candidates can be efficiently conducted. Candidates will feel instantly valued and informed throughout the recruitment process, leaving you more time to focus on other engagement efforts. For more information, engage with Talenteria today!