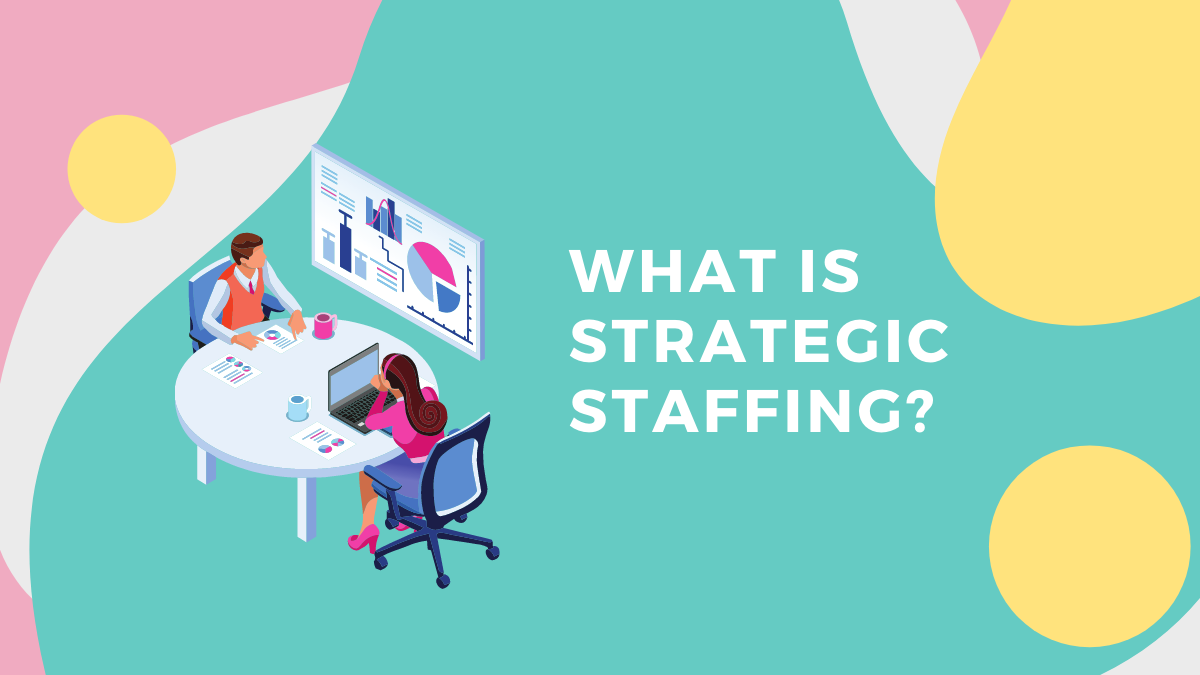 What Is Strategic Staffing?
Despite an ever-changing business landscape, good managers always have a planned future. The plan shapes the current need for resources, including labor, sufficient to implement the pre-set goals into reality.
In HR, business managers need to determine the workforce required to keep the business flowing and prospering. This relates to strategic staffing that we are going to elaborate on in this article.
About Strategic Staffing
Strategic staffing implies working out and implementing staffing strategies that address current and future workforce needs. In practice, it means that a manager reviews the organizational structure to determine existing or potential gaps in the workforce.
The result of strategic staffing is obvious: a company doesn't have any gaps in the workforce now or in the future. Therefore, business processes keep flowing, and a company keeps meeting its goals.
The Basics of Strategic Staffing
Working out strategies in staffing primarily relates to a business development plan. After all, strategic staffing ensures that a company meets all the business objectives set for the future. How so? By the availability of employees with the required set of skills and competencies.
The basics of strategic staffing begin with reviewing future business plans. Particularly, an HR manager pays attention to its scope and directions. This affects whether a business will need to hire more employees for current roles and, therefore, expand the already-existing departments or launch new ones.
It's important to note that strategic staffing doesn't always compulsorily mean hiring. Of course, maintaining a balance of full-time, part-time, freelance, and contract employees is key. But sometimes, the HR needs can be addressed with training and upskilling.
It means that the HR initiative is much wider than merely identifying gaps for recruiters to fill. It's an approach to staffing that considers all the labor assets and their strengths. This, in turn, implies a deep penetration of a manager into the organizational structure and good acquaintance with a team.
Why Implement Strategic Staffing?
Businesses implement strategic staffing for several reasons:
To Effectively Utilize Labor Assets
Strategic staffing eliminates unnecessary HR resources. For instance, some businesses tend to overrecruit - it means that they hire more than the company needs. As a result, the budget is wasted for nothing as the same results can be achieved with lower costs.
At the same time, some companies overestimate the capabilities of the existing employees. This leads to poor results and inability of steady growth as the workers merely can't bear the scope of workload.
Staffing strategies allow a business to assess the assets and manage them wisely. It means offering upskilling or training to the existing employees instead of hiring new ones.
To Work out a Systematic Approach to HR
The laissez-faire approach can hardly be called efficient, especially in the long-term. A business that wants to avoid possible HR-related nuisances can't afford to leave the organizational structure unplanned. Implementation of a systematic approach to staffing ensures a company knows its employees and successfully manages them to address business demands.
To Address Coming Workforce Demand
No company wants to face a situation when business needs to grow, but it's impossible because of a lack of competence. The problem can't be addressed rapidly as hiring is a lengthy process that may extend up to several months.
Strategic staffing is key to ensure all the necessary skills exist in a team before the demand becomes critical. This is a prudent approach to steady and harmonic growth.
A Step-by-Step Guide to Strategic staffing
Let's cover four steps of strategic staffing:
1. Identify the Gaps
Scan the labor assets and evaluate whether they are enough to meet current and future business objectives. Determine which positions need to be covered and decide what type of employees will be a fit: permanent or temporary.
2. Hire
Develop a job offer and promote it on the labor market. Find the ideal candidates that will drive your company to success. At this stage, the budget plays an important role and determines whether you can afford competent specialists or hire less qualified candidates with potential growth.
3. Onboard and Train
Welcome new hires to your company with onboarding. It's a crucial step that determines an employee's future path in the company. According to the data revealed by SHRM, two-thirds of candidates are likely to work for a company for three and more years if they had good onboarding.
4. Retain
Now that the employees are ready to fully join the team, you should work on employee retention. Otherwise, the recruitment costs can be wasted for nothing.
Develop and Implement Strategic Staffing With Talenteria
Since strategic staffing requires deep analysis, it can't be implemented without HR software. A manager needs to identify the gaps and keep monitoring how they are filled. Talenteria and its hiring solution is a reliable partner in supervision. Please contact us to learn more.