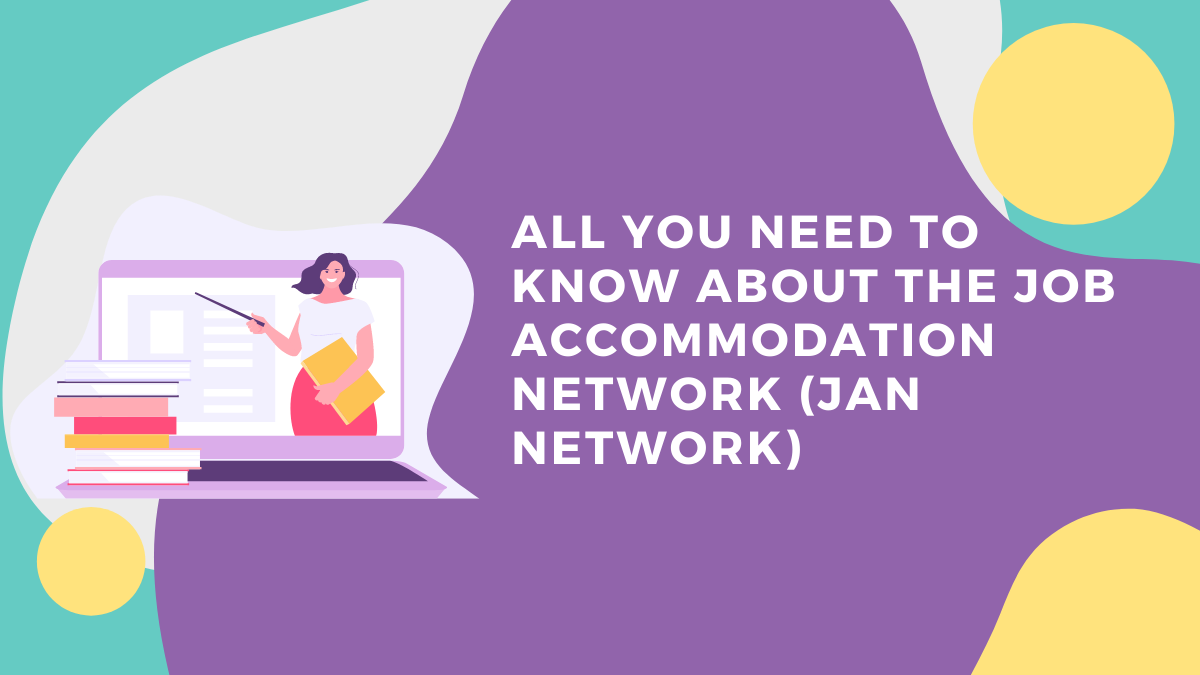 What Is the Job Accommodation Network (JAN Network)?
The Job Accommodation Network (JAN) is a service provided by the Office of the Disability Employment Policy (ODEP) of the U.S. Department of Labor. Being one of several ODEP technical assistance centers, JAN's efforts aim to promote, stimulate, and support the employment of workers with disabilities.
JAN provides free, expert, and confidential technical assistance to employees and employers on workplace accommodations and employment for people with disabilities.
The Job Accommodation Network (JAN) provides services to:
Employers
Workers with disabilities
Employment providers
Family members, friends, and coworkers
Anyone else who is interested in gaining information on job accommodations
By working on practical solutions that benefit both employers and employees, JAN helps people with disabilities improve their employability and shows employers how they can capitalize on the talent and value that employees with disabilities add to their workplace.
What Services Does JAN Provide?
JAN's trusted consultants provide information on workplace accommodations for all types of impairment, including sensory, motor, cognitive and mental disorders. The Job Accommodation Network continues to provide resources to veterans and returning wounded military.
In addition, JAN also offers entrepreneurship information for people with disabilities. Their consultants handle each request on a case-by-case basis, offering information, advice, and professional expertise on:
Self-employment
Programs for people with disabilities
Home-based business
Business planning
Small-sized business development
Small business initiatives for disabled veterans
Financing strategies
Income support and benefits planning
Marketing research
Independent contracting
E-commerce
JAN clients can look forward to receiving a resource package tailored to their specific business goals, with consultants available throughout the process who can provide ongoing support.
Who Can Benefit From JAN's Services?
From Fortune 500 companies to entrepreneurs, JAN has served clients in the United States and around the world for over 25 years. JAN services are available to private employers of all sizes, government agencies, employee representatives and service providers, and people with disabilities and their family members.
How Do I Apply for the Job Accommodation Network (JAN)?
Anyone can get information from the JAN Accommodation Network. JAN offers several ways to get confidential, personalized help anytime, anywhere. Technical assistance is available by phone, Skype, email, online chat, or through various social media platforms.
This technical assistance is available in English and Spanish and is free of charge. All communications are confidential and available to employers, healthcare and rehabilitation professionals, people with disabilities, and anyone interested in job accommodations.
Besides, JAN offers a website with hands-on learning materials, including the Searchable Online Accommodation Resource (SOAR). JAN produces monthly webcasts on a variety of topics related to disability issues in the workplace.
Other than that, remote training and local training workshops at corporate events sponsored by organizations, corporations as well as federal, state, and local governments, are also conducted by JAN on a regular basis.
How Can I Contact JAN?
By Phone: toll-free (800) 526-7234 (Voice) or (877) 781-9403 (TTY) from 9 a.m. to 6 p.m. ET
Via text: (304) 216-8189
Via the Web: http://AskJAN.org (online chat available)
Via email: jan@AskJAN.org
Via Skype: Janconsultants
Through social media platforms: LinkedIn, Facebook, Twitter, etc.
Through in-person training
Talenteria definitely recommends trying JAN's services as this is the most comprehensive job placement resource available to people with disabilities. Their consultants are thought leaders and innovators in the employment of people with disabilities, and they all have a degree in their specialized fields.