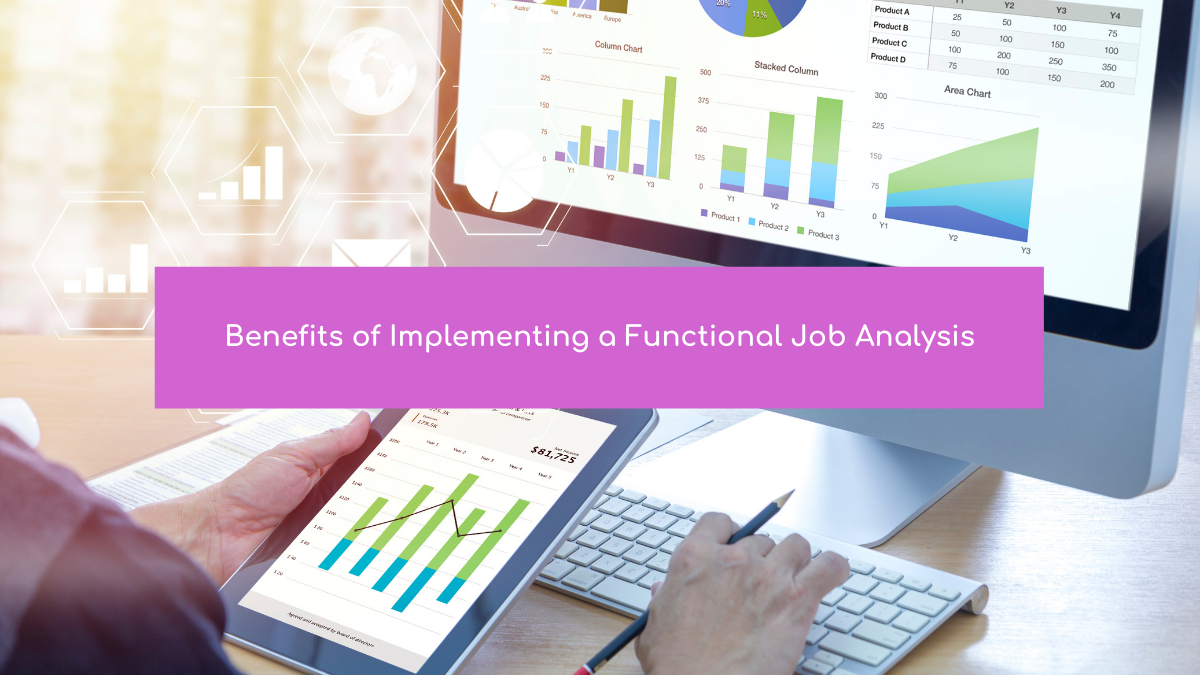 Personnel assessment is necessary for the active and conscious improvement of business processes in a company of any level. Therefore, businesses of different levels, gradually and not without difficulties, are introducing functional job analysis. What does a functional job analysis include, what examples are there, what does this assessment give, and how do you carry it out? Talenteria has the answers. Keep on reading if you want to get a general idea of how a functional job analysis works and learn the main criteria by example.
What Is a Functional Job Analysis?
A functional job analysis is a qualitative method of collecting various data regarding job information. This information is based on the behavior and actions of employees. Often, this information is further used to write job descriptions.
Functional job analysis is a system of exact parameters that comprehensively assess team members' effectiveness. The system goes through the essential qualities, skills, and functions of employees, determining compliance with the positions held. The criteria of a functional job analysis criteria allow managers, without emotions and stereotypes, to calculate the effectiveness of all employees and the company team as a whole.
A company can benefit from implementing a functional job analysis because it allows them to:
Determine the level of employees' skills, knowledge, and efficiency;
Understand what personnel changes are needed;
Promote the talented and get rid of dead weight;
Improve the motivation system;
Enter a new organizational level.
Tasks of a Functional Job Analysis
Job analysis tasks include determining the functional role of employees – now and in the long term. The probability of an employee's growth and career advancement is also estimated. The second task is to determine how to fill the skills and qualities lacking for the employee's development: with the help of training, for instance. The salary level is determined and adjusted. Here's a link to a functional job analysis template form to give you an idea.
Functional Job Analysis Examples
Your functional job analysis indicators will be individual, but the standards are often uniform and generally accepted.
Example 1: Professional Skills and Knowledge
The so-called hard skills are what a person can do as a professional: what they know as a specialist or how they cope with daily tasks. This criterion is the most understandable. You can test professionalism with tests, exams, industry regulations, and peer reviews.
Example 2: Personal Skills, Communication, and Other Soft Skills
Conflicting or agreeable? Sociable or shy? The ability to work with people, achieve goals, be a leader, or, conversely, clearly perform duties without inciting internal "riots" – all this determines the employee's suitability for a position and their career prospects. The psychological profile of an employee, their strengths, and their weaknesses are usually determined by testing and in-depth interviews.
Example 3: Assessment of Labor Results
This assessment is about business goals, sales or production plans, profit growth, turnover, number of customers, LTV, and so on. Next, we should look at the real results, but not just at the difference in numbers; we must understand why the results differ from the plan.
Important: Employees can be evaluated only after studying the whole situation. The sales plan, for example, can be thwarted for various reasons; it is unwise to demand the expected results in a "take it out and put it down" style if the employee was deprived of the opportunity to do a good job or there was a force majeure. Planned indicators are not taken out of thin air but are tied to the real situation. Goals must be achievable, objective, and clear, with room to accommodate unforeseen changes.
To sum up, a functional job analysis is based on the study, examination, and description as a type of employee assessment. Strict numbers are not needed; more important is an in-depth look and immersion in the situation. In a functional job analysis, we ask ourselves impartially: "is the employee doing well in general"? We must highlight the most notable achievements and fiascos of an employee and make decisions about the overall picture. A functional job analysis evaluates everyone – a manager, colleagues, clients, etc. Group discussions are also a friendly tool in functional job analyses – the team sits down together with the leader and experts and discusses their work experiences.