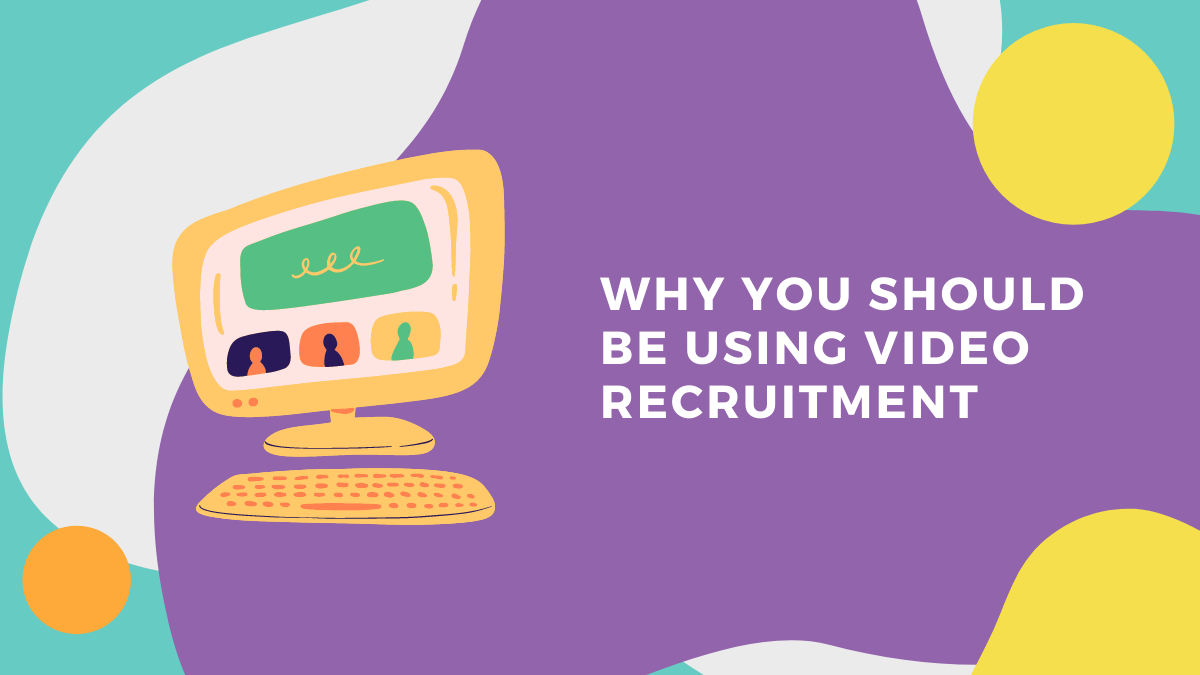 In recent years, there's been a trend on a consistent rise. It's shaking things up in the HR industry, and it goes by the name of video recruitment. They say video killed the radio star; well, they are now killing traditional recruitment strategies too! That may be an overstatement, but they are certainly outperforming them.
Video content has consistently accounted for a sizable chunk of all global internet traffic throughout recent years, and that chunk is estimated to reach around 82% by 2022! Thus, it comes as no surprise that incorporating videos into the recruitment process would be the next revolution in recruiting.
This article will delve into why you should be looking to capitalize on the video recruiting trend and ways to use video recruitment to your advantage!
What Is Video Recruitment?
Video recruitment is simply the utilization of videos to bolster your recruitment process. Videos can be used during any and every step of the candidate journey.
Most leading organizations have been implementing videos as part of their recruitment strategy for quite some time. The results have been indisputable. Other companies across the globe have come to realize the benefits, and many are following suit.
Statistics show that:
Companies are 2.7 times more likely to slash their cost per hire using video interviews.
The average time to hire is reduced by 50% when video interviews are used.
Engagement is increased by an astonishing 800% with job postings that have an embedded video.
Job listings with embedded video receive 34% more applications than those without videos.
Leading companies are 61% more likely to conduct video interviews with candidates.
82.5% of candidates are happy with video interviews as a method.
The upsurge of technological advancements and workplace globalization makes video recruiting an easy to implement yet essential tool. Likewise, the current movement in talent acquisition of emphasizing personality over competence is further reason to deploy the visual and audio medium. Videos allow us to deliver and receive communications and present ourselves in a more dynamic and engaging way – beyond what written words could achieve.
How To Use Video Interviews in Recruitment
Using video interviews in recruitment is highly versatile. As mentioned before, they can be used during any step of the candidate journey, assisting in various HR objectives. Video recruiting can:
1. Boost Your Online Presence and Search Visibility
Videos can do wonders to boost your online presence. This is because video content gives prospective candidates a secondary way to find and consume your company's engagement strategy. Using videos in tandem with an effective SEO strategy can enhance your web page ranking on popular search engines such as Google and drive up organic traffic to your website.
In other words, with a careful combination of the right title, description, and quality content, videos can get your website more clicks! Research from Brightcove has suggested that featuring videos on your website can increase the number of visitors by an average of 157%, directly from search engine results alone.
2. Reach More Candidates
In this digital era, video consumption is the preferred medium for most people. We are often inclined to watch videos more than read articles of text (apart from Talenteria articles, of course!). This is partly because information is much easier to digest through videos.
And so, it follows that videos have much more "shareability" than text. To put a figure on it, videos generate 1200% more shares than text. Adding videos to your recruitment campaign will allow you to jump on that shareability bandwagon. This puts your company on the radar for more prospective candidates.
3. Promote Your Company Brand
Capitalizing on the previous points two points, it's natural to deduce that videos are an effective marketing tool. Promoting the company brand, as we all know, is an HR function that applies marketing strategies.
No matter how comprehensive and well written your "about us" page is, it cannot rival the same impact a video can accomplish. Videos can help candidates imagine more vividly what it would be like to work at your company as you give them a glimpse of the daily activities in the office. You can tell the company's origin story, highlight company culture and values, and promote employee value propositions – all with visual aids.
4. Increase Job Posting Views and Applicants
Analytics show that job postings with videos are more attractive than those without. Candidates veer towards clicking a job posting that features a video; they are also statistically more likely to apply after watching it (provided the content is engaging and convincing). This gives you a much wider candidate pool to choose from.
5. Interview Candidates
There are three different types of video interviews. These are:
Recorded interviews – candidates are to submit a recording of their answers to specified questions. These questions are designed to gauge the typically important requirements such as technical and soft skills, cultural fit, etc. These records are then evaluated at a later time.
Live Interviews – candidates are interviewed in real-time, and the interview is conducted online using video conferencing software.
Video Resumes – candidates are asked to submit a video introduction with guidelines on topics or questions they should cover in the video and a time limit.
All of these are forms of elevated screening methods, giving you a broader idea of the candidate as a person.
Other Ways to Use Videos for Recruiting
Aside from using videos on your company website and job listing, you can also use them in the following ways:
1. Career Fairs
Career fairs are rife with job seekers and a great opportunity to showcase everything your company has to offer using videos. Not only will it draw attention to your booth, but a good video will also help to connect with ideal candidates.
2. Email
Videos can be a great addition to email correspondence with candidates in your talent pool. Videos will engage candidates instantly and feel the message to be more personalized than "cold emails."
3. Social Media
Upload videos on the company social media accounts to increase candidate reach. Using popular social media websites such as Youtube, Twitter, Instagram, and Facebook will encourage sharing. Viewers are also likely to watch other content on your accounts and visit your website if they enjoyed your video and want to know more. With great content and a little luck, your videos might even go viral!
The figures are hard to argue with and give a strong indication that video recruitment will soon be the optimal choice for both companies and candidates.
Furthermore, with COVID-19 likely to be part of our lives for the foreseeable future, social distancing guidelines will be intermittently concurrent, and positions for remote working will be on the rise. It only seems logical that video recruiting will become a commonplace practice to get around the associated restrictions.
If you liked this article, find more like it right here on Talenteria!
For more information on how Talenteria's recruitment marketing platform and career site builder can boost your candidate engagement, contact us today