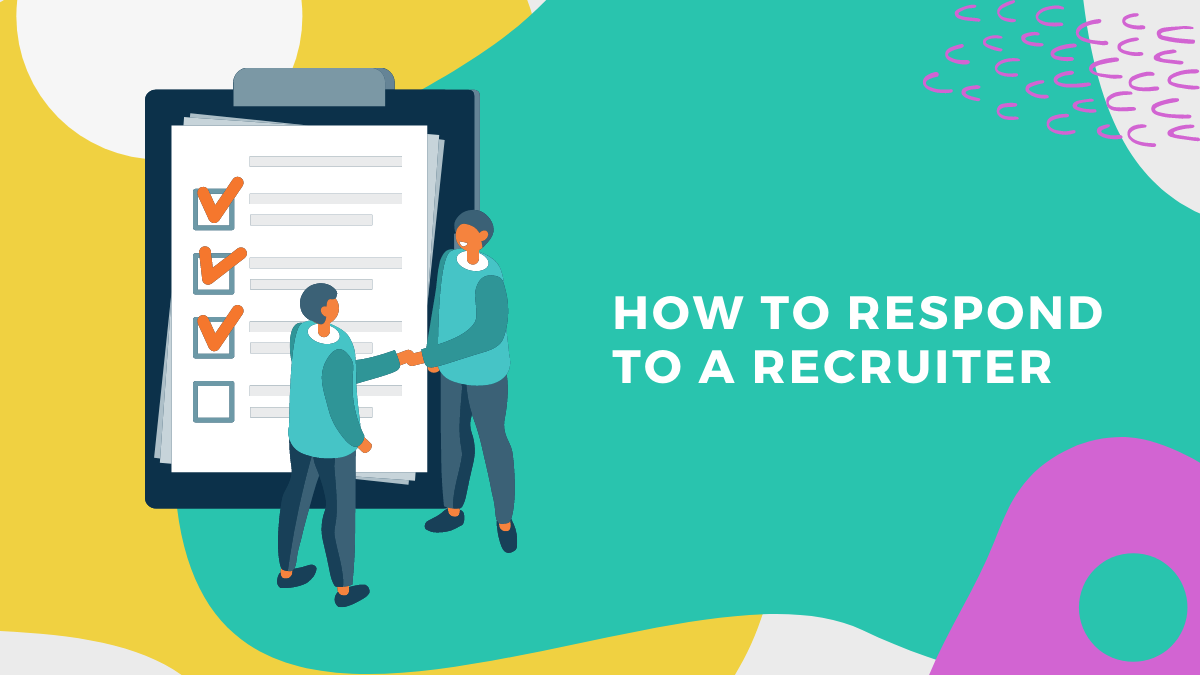 How to Respond to a Recruiter
If you are on the lookout for jobs, you are probably applying to all the jobs you can see yourself doing. After a few nail-biting weeks of anticipation, you finally get an email! It is from a recruiter, asking you for further information with regards to your application!
Consider yourself lucky if you find yourself in this position. You are on your way towards getting that coveted position. The first step now would be responding to that email. This can be a challenge if you don't know how to respond to a recruiter.
If you count yourself as among that number, worry not. This article was written specifically for you. We will take you through everything you need to know about responding to a recruiter, and even show you a few samples to give you a better idea on what to do. Sound good? Great! Let's get into it.
Our Top Tips for Responding to a Recruiter
Hearing from a recruiter is in itself an achievement, but don't let it carry you away. What job is this in relation to? Is it one you even applied for? It isn't uncommon for people to receive an invite for jobs they never applied to. How, then, are you to navigate these waters?
Well, here are a few guidelines you can follow to put your best foot forward.
1. Don't Wait Too Long
You might get overly excited and spend hours thinking about what to write and how to construct your message - only to get distracted by real life and forget. It happens to us all. This is why you should reply promptly while it is still fresh in your mind.
2. Remain Professional Throughout
Your excitement is natural and understandable, but you need to remain professional when responding to a recruiter. Remember, this is the first time you will be interacting with a representative of the organisation you want to work for, so you need to act like it, and not treat it like a text message to a friend. This does not mean, however, that you cannot show enthusiasm. You can, and you absolutely should.
3. Keep it Simple
Do not overthink your reply. The recruiter wants to get a feel for you, the person. As such, you should be honest but also brief. They receive hundreds of emails a day, and you need to be concise while expressing your enthusiasm. Don't try to be a brownnoser or impress the recruiter in every way possible. It does not make for a good first impression.
4. Express Your Best Qualities
You're applying for a job, and you need to sell yourself. After you introduce yourself in the first paragraph, use the next one to tell the recruiter the qualities you possess that make you suitable for the job. Put your resume in the attachments even if the recruiter has seen it before, and especially if they are reaching out for a job you never applied to. Whatever the case, take care you don't just write a summary of the contents in your CV.
5. Sign Off With a Smile
In the absence of proper body language, you can't actually smile at the recruiter, but you can communicate it through your email. Use positivity in the final paragraph to make a lasting impression. Point the recruiter to your LinkedIn profile or online portfolios, leave an opening for future questions, and always thank them for their time.
Email Templates to Respond to Recruiters
You know the theory. Now it is time to look at some real-life examples for inspiration. There are very many kinds of emails you can write, and they depend on what you want to communicate to the recruiter. We have included a few such samples below:
Template 1: You Are Happy With Your Current Job
This can definitely happen. If you are working a job you are satisfied with and fulfilled by, you might have no reason to consider other opportunities. This presents a problem unto itself - rejecting a recruiter. Of course, there is nothing wrong with that, but, as with every rejection, you should do so gently. An example is provided below.
Hello [Recruiter],
Thank you for reaching out with this wonderful opportunity. It seems great, and I appreciate you contacting me with it.
However, I regret to inform you that I am really enjoying the work I am doing at [Company Name], and am not in the job market at present. That being said, if ever I find myself on the lookout for a new job, you can be sure that I shall contact you first.
Sincerely,
[Your Name]
If you happen to know someone who would be a good fit for the role, ask the recruiter whether you can forward that email to your contact instead. This is as good as finding a suitable candidate for recruiters, so they should not cause any problems.
Template 2: You are Open to the Right Opportunity
Suppose you are happy at your current job, but the offer you get tingles your fancy. It has potential, you are willing to hear more about it, but it will not hurt if it does not pan out. When responding to a recruiter in this situation, you need to be honest and open with the recruiter about the reality of your situation, and tell them exactly what is on your mind. Something like, maybe:
Hi [Recruiter],
Thank you for getting in touch! I'm currently pretty satisfied with my job at [XYZ Company] and not actively looking for new opportunities. However, I'd be very open to discussing this job you are offering, as I very rarely turn down a chance to talk about [job description]. If it is possible, I would like to connect with you some time next week to talk over a quick call. I will be available on [dates that are free on your calendar].
Feel free to contact me directly at: [your contact information like email and phone number]
Looking forward to talking to you again!
Regards,
[Your Name]
Template 3: Actively Looking but Not Interested in the Offered Job
A lot of times you will be offered a job that you will not be interested in. despite being open and actively looking, you will probably have to turn this down. You might do it like this:
Dear [Recruiter],
Thanks for taking the time to reach out with this job opportunity. While I am in the market and looking for a job, my goal is to find a position that allows me to do [traits and job descriptions you are actually interested in]. As you can see, this does not line up with the offer you have presented me with.
However, if you happen to know of or come across a position that offers me to work in the field of my choice, do please let me know! I have attached my resume for your consideration and can be reached directly at: [Your Contact Information].
Hope to hear from you soon!
Best,
[Your Name]
As we have shown, instead of looking at this as a nuisance, you should treat this as an opportunity. When responding to the recruiter, tell them what you are looking for, and maybe they will help you out. Remember, it's all about who you know!
Template 4: The Offer Interests You
This is the good stuff, right here. There is nothing more exciting to an active job seeker than being offered a position that they are interested in. While you are free to do a little victory dance, remember to keep your answer dignified. Like this:
Dear [Recruiter],
This is a really wonderful offer. Thank you so much for bringing it to my attention!
As you can see on my resume, I have [X] years of experience in [insert relevant field name] doing [insert names of related activities] and am looking for opportunities that will help me [list out your goals in the field]. From the sound of it, this offer will be great for me!
I would love to schedule a meeting for us to talk more about it. I would like to know how my skills could help out the team, as well as answer any questions you might have. I have included the dates and times where I'm available the next week and, if you are available, we can set up a call.
[insert dates and times here]
You can reach me directly on my [device] at [contact information]. I'm looking forward to hearing from you!
Warm regards,
[Your Name]
If this one looks simple, it is because the aim of this letter is to get an interview date at the earliest. You don't need to do or say anything special.
Template 5: Your Dream Job Comes Calling
Aren't you lucky? The job of your dreams has arrived after all your hard work, so it's time to go and nab it. Here we go:
Hey [Recruiter],
Thanks for considering me. Based on the job profile, I would be very eager to discuss things further.
It seems you need someone to fill the role of [job title] with [relevant skills and experiences] to handle [activities related to the title]. Well, that's me!
As someone having over [X amount of years] of experience in the field, I know what you expect of me, and I know how to get [list relevant tasks] done. In my current job, I have [add examples or anecdotes about relevant achievements you have accomplished].
I would love to connect with you and discuss how [company name] can benefit from what I bring to the table. For your convenience, I have included my availability below:
[insert dates and times]
Feel free to contact me directly at me [email/phone] at [contact details]. I am eagerly awaiting your response!
Yours sincerely,
[Your Name]
Don't be afraid to add a personal touch, too. If you find out from LinkedIn that you have a shared acquaintance, bring this up. You never know what might give you an edge.
You Have What It Takes
And there we go. You're ready now, armed with everything you need to know about responding to a recruiter. As long as you don't panic and take each step as it comes, you will be alright. If you need more guidance on navigating the hiring process - either from the recruiter's end or the job seeker's end - check out our other guides on Talenteria!