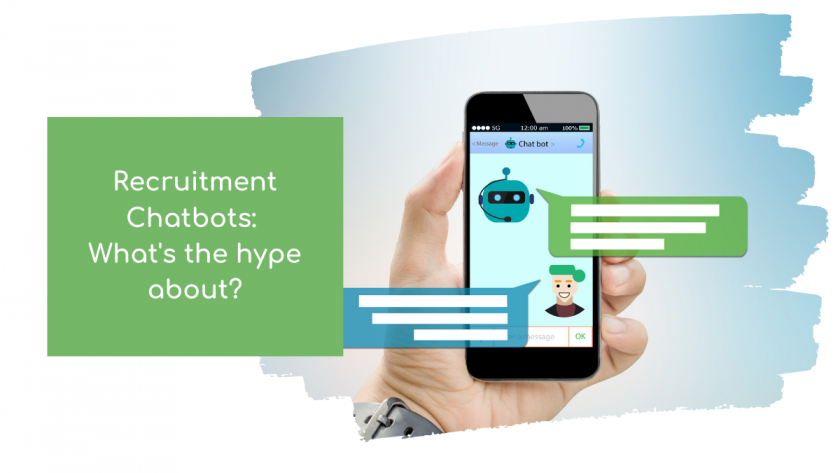 Production automation has been a common practice across all industries. Most entrepreneurs strive to automate whatever they can. Today we will consider chatbots.
This new niche that is rapidly developing and has received great interest from such big companies as:
Google;
Facebook;
IBM (the company that created this technology).
What are recruiting chatbots?
With recruitment chatbots, you can automate processes such as:
financial management;
the company's turnover;
improving interaction between employees of the enterprise;
improvement of team coordination methods.
What is this hiring software? They are designed to work with each potential employee personally. Moreover, this system is completely automated and uses machine learning technologies for self-improvement.
Why is there a growing demand for chatbots?
Automation of such a process as recruiting is one of the main goals of 2020. Hiring marketing is a fast-growing industry that is becoming increasingly automated.
This process takes a lot of time and effort. Most of it is spent looking at a huge number of resumes that come to the company's mailbox. After that, you need to choose from those that meet the minimum requirements, and then you have to communicate with the candidate personally. You need to ask them a few questions and sometimes give them a short briefing or send a test task. It all depends on the scope of the company that is looking for a new employee.
That is why it occurred to people to automate this process. This will help save a lot of time, as well as improve the quality of the selection of candidates by eliminating the human factor.
It is impossible to say exactly what role the human factor plays in the hiring process. This can both help in choosing the best candidate, and play a cruel joke with the employer.
Besides, modern chatbots are able not only to select the best employee but also to determine his potential for growth in the company and to recognize communication and other useful skills.
What do the candidates themselves think of chatbots?
This is where opinions differ. It's more a matter of psychology. Undoubtedly, those people who want to find the perfect job as soon as possible prefer HR chatbots, which are much faster than people.
They save time not only for the employer but also for the candidate, because they immediately weed out unsuitable employees, as well as recognize the potential of the future colleague. All this happens in real-time, immediately after submitting the resume.
Resume processing and sending data to the employee's mailbox will take the minimum amount of time. Besides, bots can process several tasks at once, which will further reduce the time for checking an application.
The analytical capabilities of the chatbot for hiring are amazing. They cope with a huge flow of tasks without even getting tired. Such programs are capable of running 24/7.
All the above benefits ensure that potential job candidates have a good relationship with chatbots. Therefore, research of Allegis Global Solution shows that 66% of candidates are excellent at using them.
Cons of working with chatbots
As silly as it sounds, the main advantage of chatbots is also the main disadvantage. This software is based on self-improvement technology. So, using hiring automation software has some cons. It means that the program improves itself while communicating with people. Undoubtedly, this feature makes chatbots indispensable, allowing them to instill the ability to react almost like a human.
However, because of this, it becomes possible to manipulate the actions of this program and introduce something of your own into it. Surely, it is only a matter of time before this function is removed, or at least minimized. But until that happens, it is impossible to call the chatbot the perfect tool for finding employees.
Besides, it can be argued that a person can evaluate a resume more accurately than such a bot. Searching for the necessary resumes using a bot occurs in several stages. Most of the mistakes occur at the very first stage - when selecting suitable resumes.
Errors occur due to the fact that the bot relies on keywords when searching. Because of this, even if a person is looking for a completely different vacancy, but at the same time has such keywords in his resume, he will be shown as a suitable candidate.
Of course, if an operator checked the CVs, such an error would not occur. Regardless, the chatbot learns very quickly and it's likely that this flaw will soon be overcome.
For this search tool to grow roots in modern society, people must have confidence in such software. It's harder not even to write code for an application that will conduct interviews on its own, but to get used to the fact that this can happen in our world.
In any case, for many more years, the final decision will remain with a human specialist. These disadvantages do not yet allow replacing a person in this position completely.
The most important recruiting tasks that the chatbot of our time can easily handle
The main tasks of chatbots:
Employee adaptation to work;
Answers to the most frequently asked questions;
Scheduling work time and resource costs;
Training of employees, conducting briefings;
Formation of the image of the company that is hiring.
Document formatting and keyword search are just some of the tasks that almost any modern chatbot can easily handle.
At the moment, their capabilities are much wider.
For example, the adaptation of new employees. Chatbots can help you sort out documents, and you can use them to give new employees instructions and directions to improve their work. This will help you get to know the new team and optimize their work.
Also, with the help of chatbots, you can conduct various employee surveys. Thus, you can make sure that they take into account all the recommendations of their superiors, as well as develop their working skills. Moreover, the results of such surveys can be obtained immediately in the form of points to compare the efficiency of various employees of the company. Also, it can be used in case the employee needs any documents. They will be able to quietly request in a couple of clicks using any messenger or the company website.
You can collect answers to all possible questions that your staff may have and organize them using a chatbot. Thus, the entire team will have access to the most important information for work, which can also increase the efficiency of the team.
Also, for professional training, chatbots can conduct tests and immediately, based on the results, advise various employees separately on the necessary literature or courses for advanced training.
Besides, they can indicate skills that individual employees should develop by creating various improvement plans.
Goal tracking is another useful feature of chatbots. This will allow you to monitor employee progress, provide advice, or punish poor training.
All of this will help the company develop and optimize the workforce of the team.
To simplify communication between different departments of the company, similar chatbots can also be used. For example, to mark time off or sick leave and simplify communication between HR specialists and employees.
A huge plus of these bots is the ability to immediately answer hundreds of questions, view hundreds of resumes, and analyze all this in real-time.
The last, but one of the most significant aspects of working with HR bots is improving the company's image. Everyone wants to work in progressive organizations. Besides, this bot gives you confidence that none of the candidates for the post will be left unattended. A pre-debugged system will reduce the time spent on finding the best candidate.
Additional benefits that you get when using chatbots:
Reducing the number of people required to hire new workers to the minimum, which will lead to the optimization of labor resources;
Automation of most processes; you no longer need to constantly think about trifles, you can concentrate on those tasks that the program cannot perform;
With their help, you show that the company continues to develop and implement modern technologies - potential employees themselves will reach out to you;
This investment pays off almost instantly.
TOP reasons why a company needs a chatbot
So why would a business benefit from using an HR bot?
The company is in the process of stagnation. In this case, the chatbot can improve the environment. Used to train employees, this program can conduct daily or weekly surveys, with the help of which you will find out who works more honestly and who needs the motivation to work.
Verification of candidates is constantly required. In this case, the chatbot is simply irreplaceable. Not only will it cut the screening time dramatically right after launch, but it will also provide you with more in-depth information about a candidate, including their potential to work in your team.
Frequent need for interview scheduling. Thanks to machine learning technology, this HR software can draw up schedules for interviewing candidates.
Insufficient flow of candidates. Using modern chatbots, the flow of candidates for the post will grow, because absolutely all applications are checked and only those that meet the requirement are selected from them. At the same time, the quality of candidates improves. Accelerate the social hiring process with modern technologies that do an excellent job.