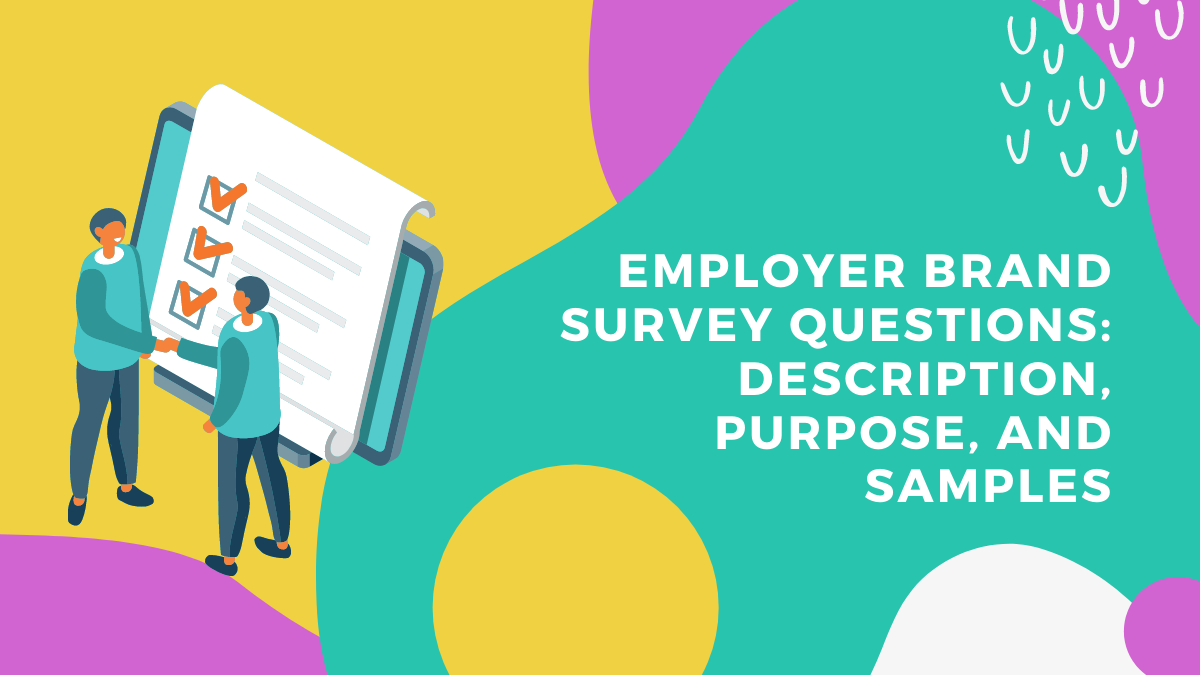 Employer Brand Survey Questions: Description, Purpose, and Samples
Getting to know your employees is an essential part of any successful HR strategy. A deep understanding of key factors that contribute to employees' engagement and their loyalty helps you to drive your HR brand.
A survey is a typical way to get to know your employees better. However, it's the right questions that make a difference. In this article, we will elaborate on employer survey questions, as well as their purpose.
Why Conduct an Employee Engagement Survey?
An employee engagement survey is a quick and effective method to spot what stimulates and hinders your employees' engagement. According to Gallup, the number of committed and enthusiastic workers in the USA has been growing for several consecutive years and reached the overall maximum of 35 percent in 2019 – however, there is still 65 percent who aren't engaged in their work.
Besides, engagement is very fragile: it can be developed over several years and lost in a couple of days. Why so? Because people's values, as well as your corporate culture, change with time. In order to ensure a productive atmosphere and your employees' satisfaction, both should align. The best way to maintain the balance is to constantly monitor the drivers and adjust the strategy accordingly.
Regular employee surveys allow you to monitor the drivers. Besides the main purpose, it also serves to:
Identify your current engagement state: You can learn an overall employee's satisfaction, as well as get deep insights into what is going on in particular departments.
Hear your employee's voice: You are going to significantly improve business vs. employee relationships if your people feel that their opinion is valued.
Enhance employee retention: Identifying what attracts and repels employees helps to decrease employee turnover.
Spot out your corporate strengths and weaknesses: The survey helps to find out HR spheres where you win and lose.
With all of this data, you can work out a successful HR branding strategy that will help you to:
Boost engagement, and therefore, increase productivity. This, in turn, has a significant impact on sales and revenue.
Retain employees: With more than half of workers actively searching for a new occupation, according to the data revealed by Gallup, it's an important factor to include in the agenda.
Attract talent: By adjusting the HR strategy according to the employees' demands, you have a higher chance of conquering the labor market.
How to Conduct Surveys and Choose Employee Survey Questions
Employer branding surveys are only effective when, in the end, you get a precise picture of your state and detailed further improvements. If you have never standardized the surveying procedure, here is a step-by-step guide on how to conduct the employer branding survey.
Step 1: Identify Your Starting Point
In order to properly evaluate the survey results, you need to have data to compare them with. The data indicates your current standing in terms of employees' engagement and corporate culture.
If you have already carried out branding surveys, you can take the received insights as an indicator of the current state. If you have not, you need to carry out a preliminary survey that can be limited to three simple questions:
How engaged are you?
What would be one thing you would like to change about your work?
What do you like about the company most of all?
Step 2: Set an Objective
HR managers, together with senior management, should identify the survey goal. The potential goals can be:
Identifying factors to reduce employee turnover
Determining key engagement drivers
Finding out factors that hinder corporate culture
Optimizing HR branding strategy
Step 3: Define the Timeframe and Format
Typically, companies choose among several types of surveys:
Annual surveys include a wide list of open-ended and close-ended questions. Such surveys usually cover numerous areas and provide deep and meaningful insights.
Pulse surveys with single questions are usually short and simple. They are carried out more often and help to get quick results fast.
At this stage, you should also consider whether you want the survey to be anonymous or not. It's better to go incognito to stimulate employees for more honest answers.
Step 4: Create a List of Brand Survey Questions
Based on the objectives and type of the survey, make up a list of questions. It's always better to combine open and closed questions to get deeper data. Also, don't neglect to categorize the questions to lead your employees throughout the poll.
Sample of Employer Branding Survey Questions
Here is a sample of employer branding survey questions that would be sufficient for complex annual analysis. All the questions are grouped in the following categories:
General Engagement Questions
These employer survey questions cover general engagement topics and allow you to measure the overall employees' satisfaction. This significantly indicates their engagement and can become a decent basis for further surveys if some problems are identified.
Are you proud to work for our company?
Are you happy to work for our company?
Would you recommend someone else our company to work for?
How often do you think about changing the place of work?
Do you see yourself working with us in two years?
Do you manage to maintain a work-life balance?
If you were to leave a company today, what would the reason be? Poor communication, lack of recognition, bad transparency, low salary, etc.
Leadership Questions
This section focuses on the leadership and the role of a leader in day-to-day work. You can identify the communication effectiveness and the leader's role in work.
How well do you understand your job role?
Do leaders inform you about the latest corporate news?
Does someone from leadership is interested in your career aspirations?
Is your leader a role model for you?
Do you feel valued as an employee?
Corporate Culture Questions
Corporate culture has a direct impact on employees' engagement and performance. The better they understand the bigger goal, the more productively they work. Moreover, this section includes the corporate atmosphere point that affects productivity.
Do you understand our brand values and vision?
Do you believe the company aligns with the values?
Does management contribute to a positive work culture?
Do coworkers express respect for each other?
Development Questions
Since personal, professional growth is of high importance for an average modern employee, businesses must provide such an opportunity to retain talent. These brand survey questions elaborate on personal development and career opportunities.
Does our company motivate you to develop as a professional more than any other company would?
Does our company provide good career opportunities for you?
Will you be able to reach and show your full potential in our company?
Open-Ended Questions
The last section focuses on the major strengths and weaknesses of your HR brand. Moreover, you can ask about the missing questions to improve the surveying. The open-ended brand survey questions are selected to let people express their opinion without limiting their choice.
What do you like about our company?
What do you dislike about our company?
What else would you like us to ask in the brand survey?
If you are looking for pulse employer branding surveys, you can opt for different types of polls.
Important Aspects When Choosing an Occupation
On a scale from 1 to 10, please rate the following factors in terms of their importance when selecting a company to work for (with 1 – not important at all, 10 – extremely important):
Growth opportunities
A chance to learn something new
Brand's service and products
The level of responsibility
Workplace modernization
Involvement in idea generation
Involvement in the decision-making process
Corporate benefits
Payment
Corporate atmosphere
Teamwork
Relationship with the management
Work-life balance
A possibility of remote work
Flexibility in working hours
Aspects That Contribute to Employer's Attractiveness
On a scale from 1 to 10, please rate the following factors in terms of how they affect the employer's attractiveness (with 1 – not important at all, 10 – extremely important):
Corporate culture
Team
Work flexibility
Remote work possibility
Internal education
Growth opportunities
Salary
Additional perks
Motivating communication with supervisors
Talenteria: The Ultimate Recruitment Marketing Solution
The choice of the survey type and questions is a matter of personal preference that must align with the survey objectives, first of all. If you make the right choice, in the end, you will get meaningful insights that will help you to further drive your HR-branding strategy. Therefore, when selecting the sample of employer branding survey questions, take into account your business goals. If you want to effectively promote your company and hire the best of the best, Talenteria can help you. Just reach out for a consultation!