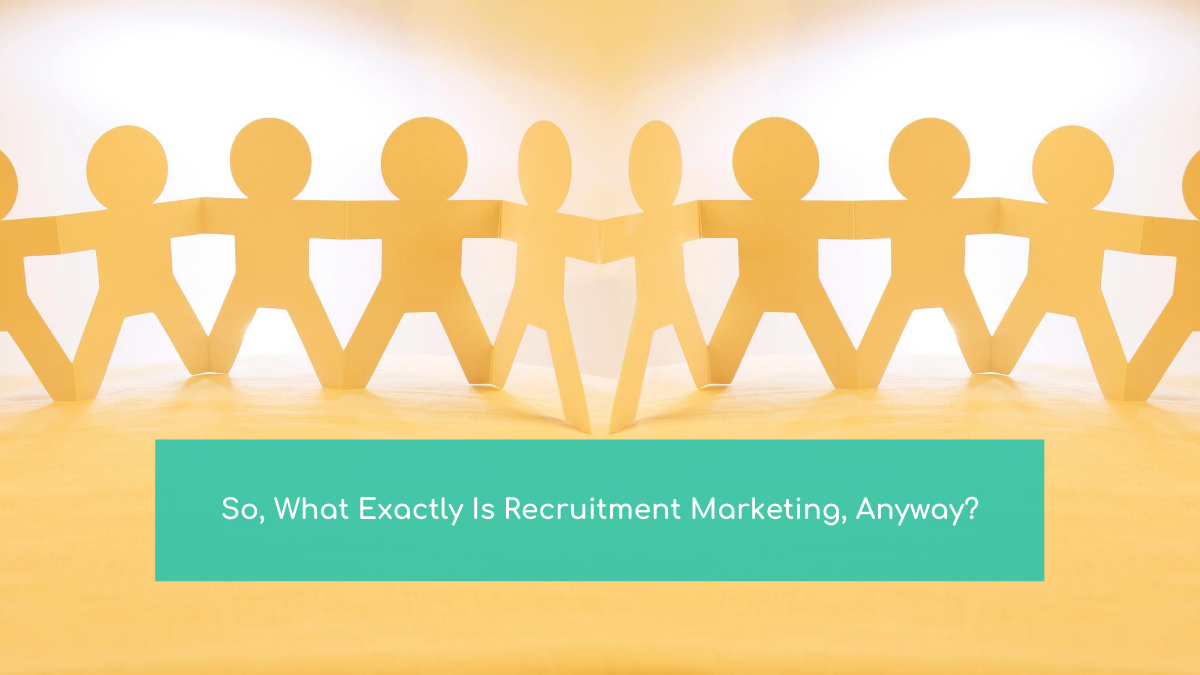 There's a popular new term circulating in the HR world - recruitment marketing. While it's become a hot buzzword as of late, many people don't know exactly what it means and how to implement it. We're here to untangle this mystery for you. Keep reading to find out what recruitment marketing is, who uses it, and how you can use it too!
So, What Exactly Is Recruitment Marketing, Anyway?
We want to make sure we start off on the same page - so let's begin with a simple definition. When broken down to its most basic terms, recruitment marketing is the tactics an organization uses to find and engage job seekers in hopes that talented individuals will fill out a job application.
That's the barebones definition, but what does it mean? Essentially, businesses use recruitment marketing as a form of sweet-talking to their talent pools. These companies build their brand awareness through public-facing content; blogs, social media, videos - it's all fair game. The end goal is for qualified candidates to come across the company's web presence, be impressed by the organization's culture, and want to work there.
Why Does It Matter?
Why should you put effort into recruitment marketing? Why not let the talent seek you out? Well, there are several inherent benefits to recruitment marketing; let's take a look:
Strategic Alignment
When you use recruitment marketing, you're playing the long game. Rather than searching for a candidate who is immediately available and actively applying for a job, you're looking for talent that could make a huge impact within your company. Candidates should be of high enough quality that building a relationship with them is beneficial, even if they are not hired in the future.
Acceleration
Once you've set up a recruitment marketing program, and you've begun to build a talent pipeline, hiring processes will be accelerated. You won't have to start searching for candidates from scratch ever again - you'll have a pool of candidates you can contact at any time.
A Better Application Process for the Candidate
Think about it - the average candidate experience on a career site can be quite frustrating. When job seekers spend weeks upon weeks scouring job boards and career pages, only to find that they don't meet the mandatory candidate experience, they can grow frustrated. Imagine how amazing it would feel to see a post pop up on your social media feed, seeming like it was custom-made just for you? Everything from the salary to the job description aligns perfectly with your needs. It would feel like a breath of fresh air! Even if you weren't currently going through a job search phase, you might be tempted to apply for the position.
Better Employer Branding
People don't apply to companies - they focus more on the brand. They consider factors like your mission, your values, and your atmosphere, rather than where the company was founded and how much profit it nets on a yearly basis. By using recruitment marketing strategies, you can build a cohesive public-facing brand for your company.
We hope these benefits have shown you the importance of recruitment marketing. While it is still essential for your company to maintain a career page with updated career opportunities, taking to social media for recruitment can only help you.
Who Uses Recruitment Marketing?
Recruitment marketing strategies can be applied to any industry - and, in fact, it has been used by myriad businesses such as Facebook, Amazon, Apple, and Google. But you don't need to be an industry giant in order to benefit from recruitment marketing.
Try This Recruitment Marketing Strategy
Are you ready to put recruitment marketing tactics into practice? We challenge you to try out this strategy.
Create an Ideal Candidate
Brainstorm the qualities that you'd like your potential candidates to have. What sort of person would thrive at your company? What factors motivate them? What are their qualifications? Go into as much detail as possible.
Put Yourself in Their Shoes
Once you have fleshed out this persona, think about what sort of marketing would appeal to them. This is how you'll figure out ways to build your brand - remember, talent attraction should be your #1 priority during this phase. Some areas to consider include:
Compensation (salary, pay raise, bonuses, and fairness)
Benefits (time off, maternity leave, vacation time, healthcare, remote work)
Career (education, training, coaching, promotions)
Culture (values, atmosphere, teamwork, mission)
Create Authentic Content
Some types of content best suited for recruitment include an infographic (our recommendation for Twitter posts), a podcast, a quiz, a brochure, a workplace video tour, and a career blog. If you use photos in your content, don't use stock pictures. Instead, use photos of real people who work for your company!
And, above all, your recruitment content should answer one pressing question that your candidate will have: What's in it for them?
Can the Process Be Streamlined?
If you don't want to go through the effort of developing, testing, and implementing recruitment marketing strategies, there are various programs you can use to automate the process. A recruitment marketing platform (RMP) is a type of software that markets your brand to ideal job candidates - which will increase your chances of converting passive candidates into active applicants. If you are interested in learning more about how to automate recruitment marketing, reach out to us for a consultation.