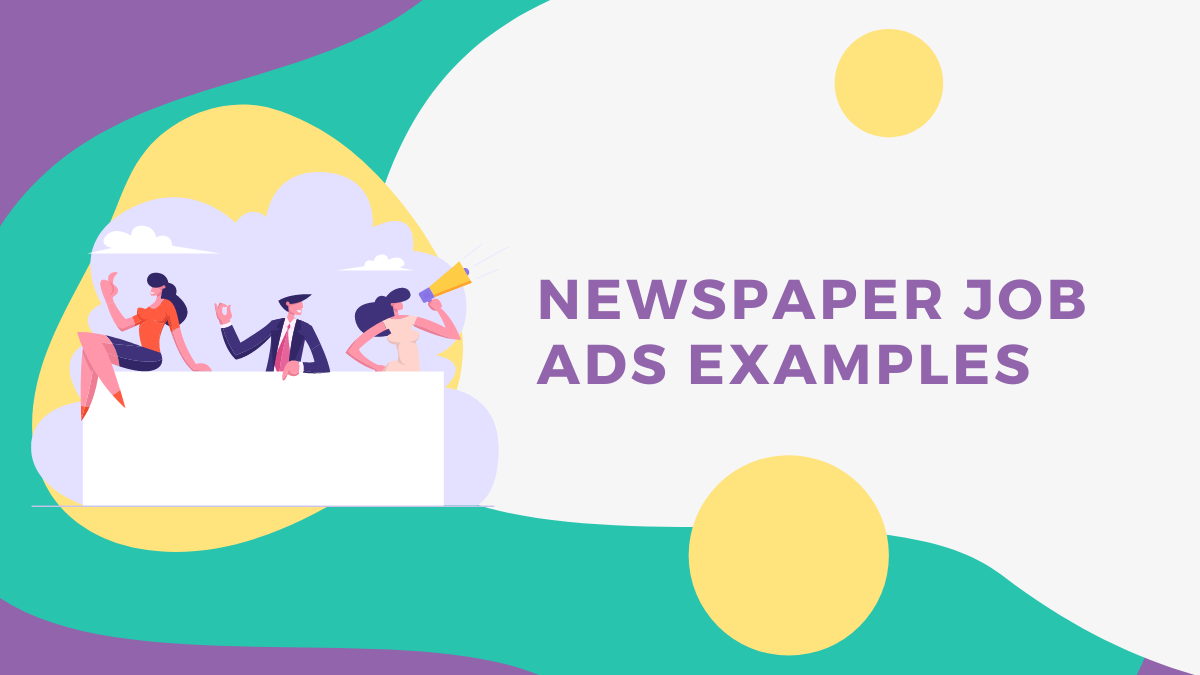 Newspaper Job Ads Examples
Does your company have a new job opening, but you're having difficulty creating a proper and effective newspaper job advertisement? A well-made newspaper job advertisement can help you, and your company attracts the perfect candidates. It will also save you time and money by avoiding skimming through a large number of unqualified candidates.
It's also essential that your company specifies the particular audiences your job advertisement wants to reach. This is so that you'll be able to correctly choose what newspaper publication to use, fitting words to fit your targets in the ad, and whether your medium should be online or in print.
This guide will discuss details about print and media newspapers. It'll also cover how to produce a relevant and effective job advertisement so your company can find the best employees.
Newspaper Job Posting Types
Newspapers are published either online or in print. While it's true that a combination of print and online platforms gives you a real advantage in reaching the best candidate for the job, it's still important to understand when to use both and when to use online or print, depending on the target audiences and on your company budget.
1. Print
Job advertisements from print newspapers can only reach a limited geographical location. If your company wants job seekers from your surrounding cities, this type of advertising can work. Print newspapers also cater to job seekers with no direct access to online platforms, where it's highly convenient for these audiences to find your job ads at their leisure.
2. Online
On the other hand, job ads posted online can reach a wider audience and can easily be made available after the review process. Versus job ads in printed newspapers which may take a week due to publishing deadlines. Online newspaper publication is beneficial for new job openings that require a larger group of job seekers, such as job fairs.
How Much Does Newspaper Advertising Cost?
Most newspapers offer ads of different sizes with placement options. The larger the ad size, the more it can attract qualified candidates and the higher its cost. Depending on your budget, you'll need to pick the option that best fits your company's interest.
For printed newspapers, the ads are often priced in a column inch of measurement. Additional costs may include the designer of the ad, the media buying agency, and publishing logistics. Price sheets can also vary depending on how well-known the newspaper is and its buyers.
Online newspaper ads are mostly available in packages. Some offer packages that include the ads with free design templates, which will be viewed online for a specific time.
How to Create Newspaper Job Ads
Well-crafted newspaper job ads have elements that make them stand out among the rest. Here are some tips on how to write your ad content and design:
1. Construct a captivating job ad title. The job ad title doesn't have to be the actual job that the candidate will apply for. It can contain key terms describing the job as well as the opportunities and level of work that the job seeker will perform. Avoid abbreviations and acronyms because some qualified candidates may not be familiar with such.
For example: Try having this job ad title "Pharmaceutical Sales Representative" instead of putting "Sales Position." This way, your job ad can attract exactly the type of job seekers you are looking for.
2. Introduce your company. It would be best to summarize the business that your company is running, the culture in the workplace, and your mission. You can include phrases and keywords describing why it is a great place to work to motivate candidates.
For example: "Company Z develops and distributes high-quality healthcare drugs and services to customers at affordable prices. Our company is headed by Samuel Ong and is located in Makati, Philippines. Our goal is to reach individual customers and small organizations and companies to avail of our products and build strategic alliances."
3. Sell your job. Briefly explain the obligations and essential tasks of the offered position so the candidates will know about their performance expectations. Tell the candidates the benefits they can get from working at your company. You can highlight the salary, career development opportunities, and other exciting projects you offer.
For example: "A Pharmaceutical Sales Representative has the following essential duties: Sourcing new clients, utilizing effective sales skills to persuade doctors to prescribe on the products, providing product information while presenting product samples, assessing the needs of the client, and suggesting suitable promoted products. The salary base is USD 90,000 with flexible working hours, health benefits, endless career growth, and total reward packages."
4. Include objective applicant requirements. For the applicant to be considered for the position, there should be basic qualifications necessary to fulfill the duties of the offered position. Be objective and precise in stating the requirements. List only the related requirements needed for the job and avoid listing unnecessary skills as it may limit your potential candidates.
For example: Use "must be a Bachelor's Degree holder" instead of "with a good educational background." Use "with at least two years of experience" instead of "with years of experience."
5. Insert an application process. Your ad should contain the procedures for application, whether online or on-site, how to submit the resume, proof of requirements, and the deadline for application. Provide instructions and necessary contact information of your company such as phone number, email address, and company website if applicable.
For example: "All qualified candidates can send their application letter and resume at companyz@gmail.com."
6. Write any additional information and call to action. You may include information such as the working hours, employment type, full-time or part-time, and then end it with a call to action.
For example: "Apply now and be a part of our team!"
Attract the Best Candidates!
Follow these tips so you can produce well-crafted newspaper job ads that will surely attract the best candidates for the position! But there's an even better option: creating a stunning career site. When you're ready to post your job vacancies on a custom branded career site, Talenteria makes it easy! We offer all the tools you need to make a site, upload application forms, and broadcast jobs. Reach out today to learn more!